Documentary film series to address power, authority in society
---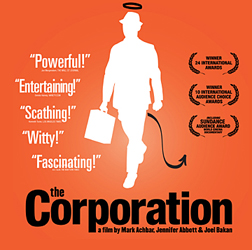 A documentary film series that will focus on abuses of authority and power in society will be presented this fall by The University of Toledo Department of Theatre and Film.
The films will be shown Fridays at 7:30 p.m. in the Center for Performing Arts Lab Theatre Room 1039 on Main Campus. Some nights will include two films.
Listed by date, the movies are:
• Aug. 28 — "The Corporation." Provoking, witty, stylish and informative, this film explores the nature and rise of the "corporation."
• Sept. 11 — "Why We Fight." Filmmaker Eugene Jarecki explores Eisenhower's warning about the rise of the military industrial complex and finds that the answer to the film's title is not as clear to Americans as it used to be.
• Sept. 25 — "Sicko" and "Glass Jaw." Michael Moore examines the U.S. health-care system and how it compares to those in other countries. "Glass Jaw" is a short piece documenting a filmmaker's struggle with the health-care system after he is assaulted.
• Oct. 23 — "The Yes Men Fix the World" and "Freedom of Expression: Resistance and Repression in the Age of Intellectual Property." Changing the world one prank at a time, anti-corporate activists travel from conference to conference and impersonate members of the World Trade Organization.
• Nov. 6 — "University, Inc." and Laura Dunn's short piece, "The Subtext of a Yale Education." Filmmaker Kyle Henry will be in residence for a screening of his newly re-released documentary on the corporatization of the academy.
Admission to the films is free; however, a $3 donation per person is requested to help defray costs and support future screenings.
For more information, visit the UT Department of Theatre and Film here.