Downtown Connect Launches Aug. 30
---
The University of Toledo is launching Downtown Connect, a late-night bus service through TARTA for students, faculty and staff traveling downtown on Thursday, Friday, and Saturday evenings.
The route will leave from Gateway Plaza beginning at 11 p.m. on Thursday and Friday, and 8 p.m. on Saturdays, with the final pickup from downtown at 2:35 a.m.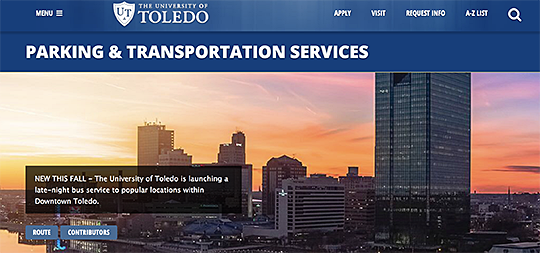 The bus will arrive at Gateway Plaza on the hour for pickup.
The late-night route will include stops in the Warehouse District, Promenade Park and the Uptown District.
Return stops will be at apartment complexes near campus, with the final stop at Gateway Plaza.
This service provides students the opportunity to explore and enjoy restaurants, concerts, games and special events going on in downtown Toledo.
View the routes here, and learn more about Downtown Connect here.