New mobile app provides access to immunization records
August 31, 2012 |
UToday
By Amelia Acuna
---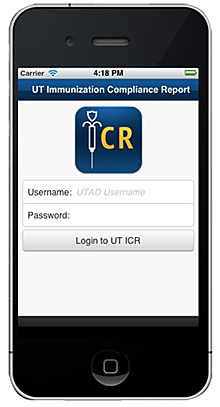 Clinical staff and students at UT Medical Center won't have to go far to find complete details on their medical records. That information will be as close as the palms of their hands, thanks to a new mobile application developed by The University of Toledo Center for Creative Instruction and College of Medicine and Life Sciences.
The new application, UT Immunization Compliance Report, has been created to assist all faculty, staff and students in reviewing their immunization history and requirements.
"This application was designed as an easy and effective way for medical students and employees to maintain compliance, and review their immunization history and requirements," said Dr. Ronald McGinnis, associate professor and associate dean for clinical affairs at UT Medical Center. "They can trigger an email from the application showing they are up-to-date. We feel The University of Toledo is taking a proactive step, as our web-based portal is going above and beyond current requirements."
Through the app, users can quickly review information to show they are in compliance and enable push notifications, which will give them reminders if they are out of compliance or will become out of compliance within one month, according to Brian Szabo, software engineer in the Center for Creative Instruction, who led the application's technology development.
The free application, the Immunization Compliance Report, can be downloaded to an iPhone, iPad or any Android device by visiting utoledo.edu/centers/cci/portfolio/icr.