Family Weekend to commence Sept. 15
September 5, 2017 |
UToday
By Ashley Diel
---
Whether you are a freshman or senior, give your family a fun-filled tour of campus at this year's annual Family Weekend, "Rocket Families Unite."
The weekend will run from Friday, Sept. 15, through Sunday, Sept. 17, and will include a variety of activities for students and their families.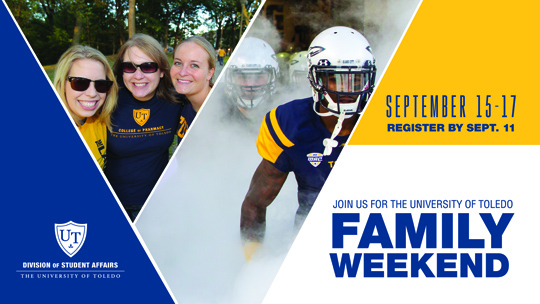 "This event allows all our student stakeholders to see the awesomeness that is Rocket Nation," said Adam Bohland, assistant director for residential marketing and housing. "From the football game to entertainment, plenty of food and fun events like the Flavor Run and Kid Ace, our families get to enjoy campus together. Connections are made and families feel part of the University community." 
Participants also will receive a discount card to use at local businesses during the event so families have a chance to explore and participate in activities and attractions in Toledo.
"Family Weekend is a University tradition and allows parents, families and loved ones to come back to campus and enjoy student life," Bohland said.
Registration for the weekend closes Monday, Sept. 11, at 4 p.m.
For more information or to register, visit utoledo.edu/studentaffairs/osi/familyweekend.
Faculty and staff members who are interested in volunteering during the weekend can sign up here.