Back-to-school parking tips on UT campus
September 6, 2016 |
UToday
By Christine Billau
---
As students become familiar with their class schedules and new routines during the start of fall semester at The University of Toledo, it's important to know available parking options and tools that can help make it easier to find a spot.
Parking congestion is greater in certain parts of campus, especially on the surface lots near the core academic area.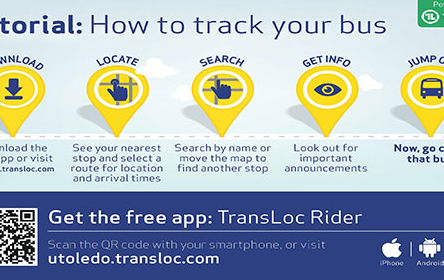 Like universities across the country, the best choice is not always closest to your destination.
The parking lots by Bowman-Oddy Laboratories and the Health and Human Services Building fill quickly every morning and regularly stay full through the afternoon.
The parking garages are equipped with vehicle counters and display the number of spaces available or if it is full.
Parking lots on the south side of campus usually have spots readily available. Parking lot 25 by Rocket Hall, lot 18 along Douglas Road near the Student Recreation Center, and lot 20 by Nitchske Hall have had a significant number of empty spots during the last few weeks. Click here to see campus maps.
If students are not able to walk a few extra minutes to their first class, they can jump on a shuttle for free.
UT offers Blue and Gold transit routes where buses are picking up and dropping off passengers at the parking lots every 10 minutes.
Students can download the TransLoc Rider app to view arrival times and track buses.