UT ranked Ohio's best four-year college
---
The University of Toledo is the best four-year college in Ohio in a new ranking that focuses on affordability, flexibility and student services.
Schools.com, an online source for education information, compiled the list using data from the National Center for Education Statistics to evaluate colleges and universities across the state.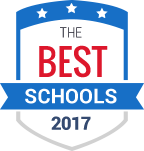 "It's an honor to be recognized as the best school in the state for our success serving students with a high-quality education at an exceptional value. No matter what you want to study, you can find it here," UT President Sharon L. Gaber said. "We are committed to helping students succeed."
According to Schools.com, UT is No. 1 because the University "emerged from our analysis as the best one overall and also one of the best online colleges in Ohio. The University of Toledo ranked No. 2 in the state for its number of degrees offered via distance education — 46 of them, to be precise — and reported a healthy 36 percent of students enrolled in at least some online course work. One of the larger schools on our list, UT also provided its students with a No. 4-ranked selection of degrees available on campus."
Schools.com listed financial aid as a "bright spot" for UT. According to the organization, "Only three other schools in the state provided their students with a greater proportion of institutional grant aid relative to average tuition and fees costs than UT."
The average debt of graduates also was a factor. A recent analysis of student loan debt by LendEDU revealed UT graduates have the lowest student loan debt among the state's public colleges. The average student loan debt per borrower for UT's class of 2016 was $24,437, which ranks the University the best among Ohio's public colleges and universities.