UT to celebrate Constitution with speaker, new citizens
---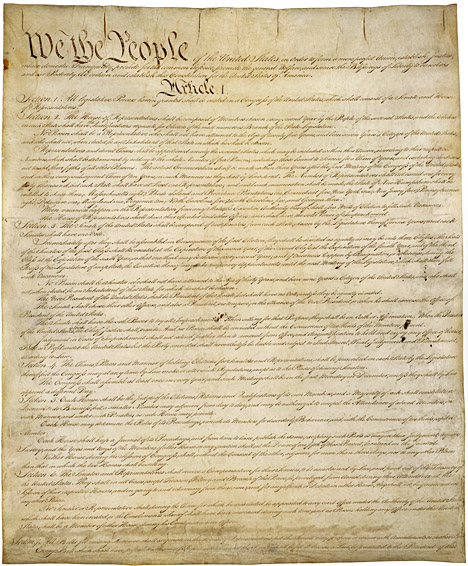 On Monday, Sept. 17, 12 people will be sworn in as U.S. citizens on The University of Toledo's Main Campus, and a speaker will highlight issues of federalism and the First Amendment in honor of Constitution Day.
The events will kick off at 11 a.m. with the naturalization ceremony in Student Union Room 2592. UT President Lloyd Jacobs will give a welcoming speech, and Dr. Nagi Naganathan, dean of the UT College of Engineering, will be a guest speaker.
Four UT students will be involved in the free, public ceremony. Donovan Thompson will lead the opening of the court; Mae Sattler will sing "The Star-Spangled Banner"; Lashona Mitchell will lead the group in the Pledge of Allegiance; and Nicholas McCullough will recite by Emma Lazarus's poem "The New Colossus," which is inscribed on the Statue of Liberty.
"It is indeed a very special day to be welcome to the citizenry of this great nation," said Naganathan, who became a citizen himself just a few years ago. "Those of us that are granted this special honor and privilege are most appreciative of not only the unlimited opportunities but also the extraordinary warmth and friendship of the society. My congratulations and welcome to all of our newly minted citizens."
At 4 p.m. in Libbey Hall, a discussion will be led by Dr. Ralph Ketcham, professor emeritus at the Maxwell School of Syracuse University, who was the Council for Advancement and Support of Education professor of the year in 1987.
Ketcham will give a talk titled "Federalism and the First Amendment: Toward a Republican Union and Public-Spirited Citizenship." His discussion will revolve around the First Amendment and its importance to civic education and discourse.
"Some people think of freedom of speech as an individual right, but Dr. Ketcham thinks of it in addition, and perhaps more importantly as being good for the political well-being of the community," said Dr. Renee Heberle, UT associate professor of political science. "If we all have free speech, it's also something of a responsibility to practice civic education. I encourage the community to come out and visit with this eminent scholar of the Founding."
Ketcham likely will draw from his research in his talk. Among his many publications are the definitive biography of James Madison, as well as the introduction to a collection titled The Anti-Federalist Papers, which provides insight into the arguments offered in 1787-1789 against the ratification of the Constitution that are still influential in our political world today.
Refreshments will be served at the free, public lecture, which will conclude with a question-and-answer session with Ketcham.
UT's events in honor of Constitution Day are sponsored by the Office of Government Relations.
Established in 2004, Constitution Day recognizes the formation and signing of the U.S. Constitution on Sept. 17, 1787. All educational institutions that receive federal funds hold events to recognize the day.