Chinese Moon Festival to debut Sept. 17
September 12, 2013 |
UToday
By Cathy Zimmer
---
The campus community is invited to join the UT Confucius Institute for the inaugural Chinese Moon Festival Tuesday, Sept. 17, from 11 a.m. to 3 p.m. in the Student Union Auditorium.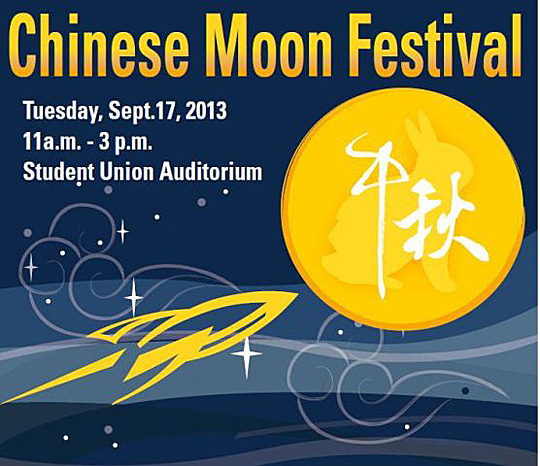 "This event is free and will feature a variety of activities celebrating Chinese culture," said Minhua Wu, assistant director of the Confucius Institute. "Participants will be able to do a variety of art projects such as make a Chinese bracelet, design a paper lantern, or create wish cards for friends and family.
"We will have an opportunity where people can practice Chinese calligraphy, take a photo under the full moon at the photo booth, learn to speak a little Chinese, and visit an Asian market featuring Chinese souvenirs."
Wu added, "We also will be handing out samples of traditional moon cakes. We have a lot planned, and we encourage the campus community to turn out for what we hope will become our signature event on UT's campus."
The Moon Festival is a popular harvest event celebrated by Chinese people. The festival is held on the 15th day of the eighth month in the Chinese calendar. It is called Mid-Autumn Festival or Moon Festival because of the celebration's association with the full moon on this night, as well as the traditions of lunar worship and moon gazing.
The festival consists of three fundamental meanings that are closely tied to one another: gathering, such as family and friends coming together; thanksgiving, to give thanks for the harvest; and praying such as for babies, a spouse or other family members for a good future.
The Confucius Institute at The University of Toledo is committed to serving the region of northwest Ohio by providing education in Chinese language and culture, the development of and enhancing China-related scholarly research/discovery, academic programs, and educational/training programs that support business outreach/engagement, and offering opportunities for cultural exchanges between China and the United States.
The institute is part of the Center for International Studies and Programs, which is committed to the belief that effective cross-cultural interaction leads to global understanding and ultimately to a more rewarding human experience and to a better, more peaceful world.
For more details on the Chinese Moon Festival, visit utoledo.edu/cisp/moonfestival.