Parking lot closures for football games announced
September 14, 2016 |
UToday
By Staff
---
It's time for Rocket football, and UT will play Fresno State Saturday, Sept. 17, at 3 p.m. in the Glass Bowl.
The University of Toledo Police Department has released its schedule of lot closures for that contest and other home games for the 2016 season to ensure parking availability for those attending the games.
Parking areas 6 and 10 will close at 9 p.m. the day before games. Overnight parking is not permitted. Fans with a parking area 6 or 10 football parking pass will be admitted starting at 6 a.m. game day.
Parking areas 5 and 9, along with the Greek Village loop and Parks Tower loop, will close starting at 5 a.m. on game day. Any cars remaining in the parking area 9 on game day will be towed starting at 5 a.m.
Parking areas 3, 4, 18 and 28 will close at 9 a.m.
While lot closures can be an inconvenience for faculty, staff and students, Rocket football games and other campus events are an important way the University interacts with the outside community, according to UT Police Chief Jeff Newton.
All UT faculty, staff and students receive free general admission parking by presenting a valid Rocket ID to the parking attendant on game day. General admission parking areas are 1, 2, 12, 13, 17, 19, 20, and the east and west parking garages.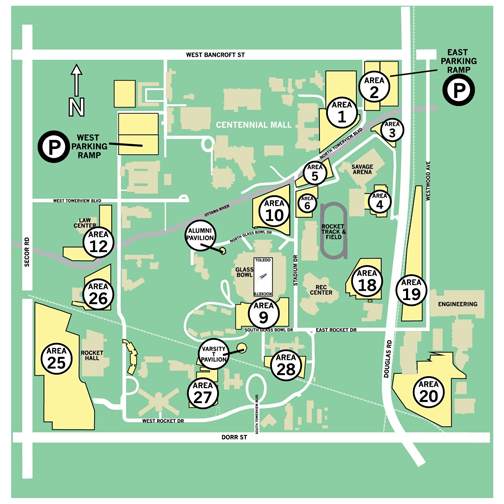 Premium parking areas are 3, 4, 5, 9, 10 and 28 for suite holders, stadium club seat holders, athletic contributors, sponsors and premium season ticket holders.
Additional game day parking information is available here.
Other 2016 home football games are:
• Saturday, Oct. 15, Bowling Green (Homecoming), 3:30 p.m.;
• Saturday, Oct. 22, Central Michigan, time to be announced;
• Thursday, Oct. 27, Ohio University, 7:30 p.m.; and
• Wednesday, Nov. 16, Ball State, time to be announced.