Toledo wins Battle of I-75: Rockets beat Falcons, 27-15
---
Junior Terrance Owens completed 20 of 28 passes for 303 yards to lead Toledo to a 27-15 victory over archrival Bowling Green before a capacity crowd of 28,115 in the Glass Bowl Saturday night.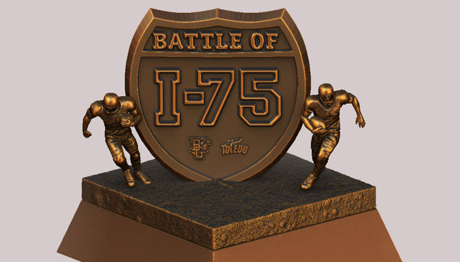 The victory was the Rockets' third straight against the Falcons, earning them the right to hoist the Battle of I-75 Trophy after the game.
Owens was sharp all night, mixing in a combination of short passes and downfield heaves. His main target was redshirt freshman Alonzo Russell, who caught a career-high six passes for 152 yards. Junior David Fluellen paced the rushing attack with 81 yards and two TDs.
Toledo's defense played an inspired game, holding the Falcons' potent offense to 351 yards and just nine points until early in the fourth quarter when BGSU cut the lead to 24-15 on a John Pettigrew touchdown. But Toledo soaked up nearly eight minutes of the clock on its next drive before Jeremiah Detmer kicked a 42-yard field goal with 5:42 to close out the scoring and effectively decide the contest.
Toledo led at halftime, 17-3, opening the scoring on a 66-yard bomb from Owens to Russell on its second drive of the game. The Rockets extended the lead to 17-0 in the second quarter on a 27-yard field goal by Jeremiah Detmer and a one-yard plunge by Fluellen. The Falcons cracked the scoring ice on the last play of the first half on a 32-yard field goal by Tyler Tate.
The Rockets marched down the field in just four plays on their first possession of the second half, scoring on a 22-yard bolt from Fluellen. BGSU immediately countered with a six-play drive that was capped by a 23-yard score by Anthon Samuel, cutting the lead to 24-9.
Toledo's defense came up big later in the quarter, stopping the Falcons on fourth-and-12 from the UT 14-yard line. But a Fluellen fumble gave the ball right back to Bowling Green, and the Falcons converted the turnover into six points on a two-yard run by Pettigrew, BGSU's last points of the game.
The Rockets will be back home next Saturday in a nonconference battle vs. Coastal Carolina that will start at 7 p.m. in the Glass Bowl.