Forum to Focus on Helping Students in Crisis
September 16, 2019 |
UToday
By Staff
---
"Rapid Response Training: Being Prepared to Assist Students in Crisis" will be discussed at the first Future of Higher Education Forum this academic year.
The program will be held Friday, Sept. 20, from 10:30 a.m. to noon in Carlson Library Room 1005.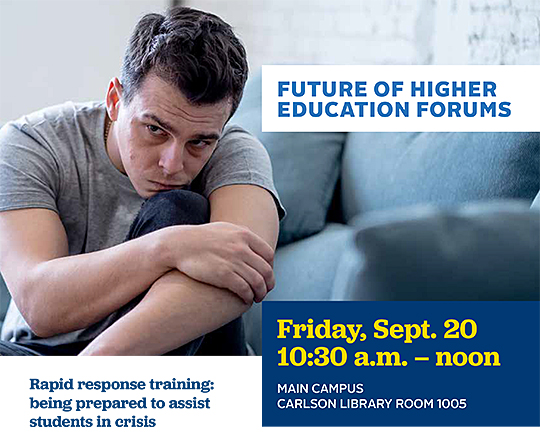 "This session will help faculty members learn how to recognize the signs of a student who is struggling — in and outside the classroom," Dr. Amy Thompson, vice provost of faculty affairs and professor of public health, said. "We want to make sure our faculty members are ready to help and know about available resources."
Thompson will speak at the forum along with:
• Dr. Lisa Pescara-Kovach, associate professor of educational psychology and director of the Center for Education in Targeted Violence and Suicide;
• Katrina Nottke, assistant director of Title IX and compliance;
• Danielle Rominski, assistant director of the Center for Student Advocacy and Wellness;
• Dr. Sammy Spann, associate vice provost for student affairs and dean of students; and
• Dr. LaTasha Sullivan, interim associate director of the University Counseling Center.
"We want our students to succeed, and that means we have to look out for them," Thompson said. "This forum is designed to help faculty members know what to look for if they think a student is having difficulty coping."
The Future of Higher Education Forums are coordinated by the Office of the Provost in collaboration with the University Teaching Center and the Office of Diversity and Inclusion.
Forums will be held on the third Friday of the month throughout the academic year. Visit the Office of the Provost website to see upcoming topics, as well as to view past forums.