Cultural training at UTMC to improve patient experience
---
Starting Friday, Sept. 21, The University of Toledo Medical Center will launch the Cultural Transformation Experience Training Program for its employees to provide better experiences for patients.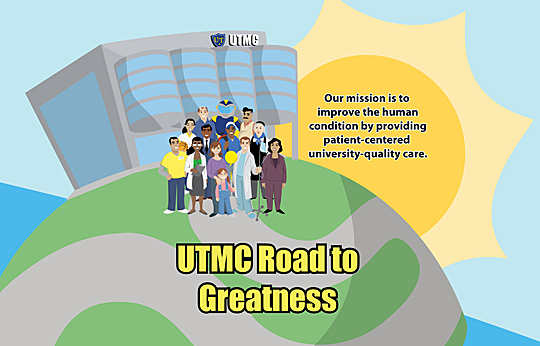 "The purpose behind this is to teach our employees the current health-care realities in the United States, how to deliver a memorable patient experience, and the goals of the institution," said Ioan Duca, service excellence officer for the University.
All UTMC employees, including physicians, residents, fellows, managers and executives, will attend a 4.5-hour training session. The program allows all staff to gain full knowledge of UTMC's initiatives and be able to work together to achieve them.
Attendees will be educated in matters involving the rising cost of health care, health-care trends, employee engagement and patient-centered care. They also will learn specifically about UT's mission and values, as well as the hospital's initiatives and UTMC's strategic plan for the next three years.
"When people graduate, they will graduate as caregivers," Duca said. "It doesn't matter if they're a neurosurgeon or someone who cleans the restrooms. Everybody is a caregiver."
Employees will be educated in a fun and interactive environment using maps and other visuals. Each employee will attend one training session, with multiple training sessions occurring in the next few months in the iCARE University training room. This sort of total-immersion training is something that UTMC has never done before, according to Duca.
"This is the most extensive, comprehensive approach to a training program at UTMC in our entire history," he said. "It speaks to our level of commitment that we have to our employees, and it also speaks to the commitment that we have to our patients."
The program is designed to bring every employee together at a level playing field to learn about and discuss different topics that affect health care today. The goal is that regardless of their roles at UTMC, employees are engaged, informed, passionate and committed to improving the human condition by providing patient-centered care.
"For one day, everybody will be on a first-name basis," Duca said. "When Dr. Jeffrey Gold [chancellor and executive vice president for biosciences and health affairs, and dean of the College of Medicine and Life Sciences] comes and moderates the sessions, we will call him Jeff. We want to create a level field of approachability."
The training dates will be Sept. 21, 24 and 28; Oct. 1, 4, 5, 8, 15, 22, 26 and 29; Nov. 1 and 30; and Dec. 13 and 21.
To register for a training date, visit utmc.utoledo.edu/cte.