UT to host International Human Trafficking and Social Justice Conference Sept. 22-23
---
Every year thousands of children in the U.S. and around the world are forced to become victims of a criminal underworld and suffer in plain sight.
Survivors, social workers, law enforcement officers, educators, nurses and researchers from across the globe are coming together for a two-day conference at The University of Toledo to bring the sex and labor trafficking trades out of the shadows and help end the abuse through education and advocacy.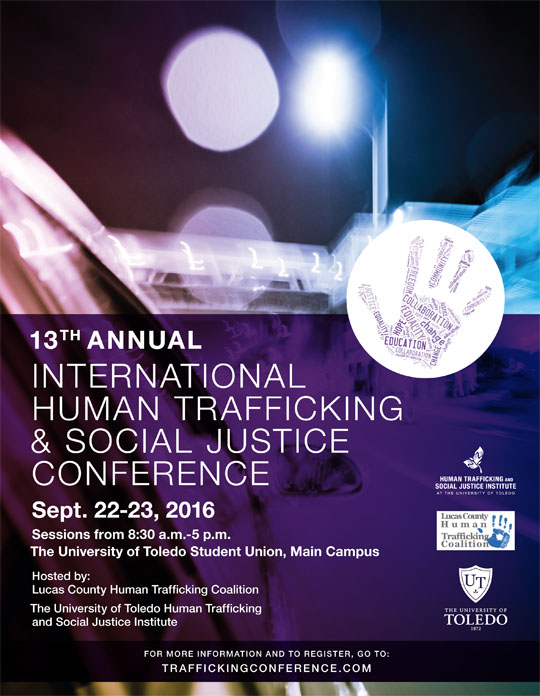 UT is hosting the 13th Annual International Human Trafficking and Social Justice Conference Thursday and Friday, Sept. 22 and 23, in the Student Union.
The conference is hosted by UT's Human Trafficking and Social Justice Institute and the Lucas County Human Trafficking Coalition.
"Human trafficking affects more than just the victims, it hurts the whole community," said Dr. Celia Williamson, UT professor of social work and director of the Human Trafficking and Social Justice Institute. "Since 2004, this annual conference has welcomed presenters from 31 states and 15 countries to educate social service, health-care and criminal justice professionals on this form of modern slavery and the needs and risk of victims, as well as their customers and traffickers. We are laying the groundwork for future collaborative research, advocacy and program development."
One session allows participants to watch a video of UT medical students treating a human trafficking victim inside a state-of-the-art patient simulation suite at the Interprofessional Immersive Simulation Center on Health Science Campus. The victim is a high-tech medical mannequin that can bleed and breathe.
"Nearly 90 percent of sex trafficking victims encounter an ER or clinic, but only a quarter of health-care professionals think that trafficking impacts their patients," Katie Bush, clinical simulation and education research associate, said. "This simulation presentation will showcase how our students going into the health-care field are being trained to spot red flags of trafficking and help rescue victims."
Bush will discuss the simulation Thursday, Sept. 22, from 4 to 5 p.m. in Student Union Room 3010A.
U.S. Sen. Sherrod Brown will speak Friday, Sept. 23, at 12:30 p.m. in the Student Union Auditorium.
Additional speakers will include:
• FBI Special Agent James Hardie and Detective Pete Swartz with the Toledo Police Department, who specialize in investigating child sex trafficking as part of the FBI's Innocence Lost initiative, Thursday, Sept. 22, at 11:15 a.m. in Student Union Room 2584.
• International human trafficking expert Mohammad Ashraful Alam, who will present "Sex Trade Behind the Scene of Women and Girls Trafficking: A Case of Bangladesh" Thursday, Sept. 22, at 1:30 p.m. in Student Union Room 2584.
• Theresa Flores, a human trafficking survivor, who will present "The Health-Care Needs of Domestically Trafficked Women: Study Results" Thursday, Sept. 22, at 2:45 p.m. in the Student Union Ingman Room.
Click here for a full schedule of events.
For more information, visit traffickingconference.com or email  traffickingconference@gmail.com.