Enroll for Benefits by Oct. 31
September 20, 2019 |
UToday
By Christine Wasserman
---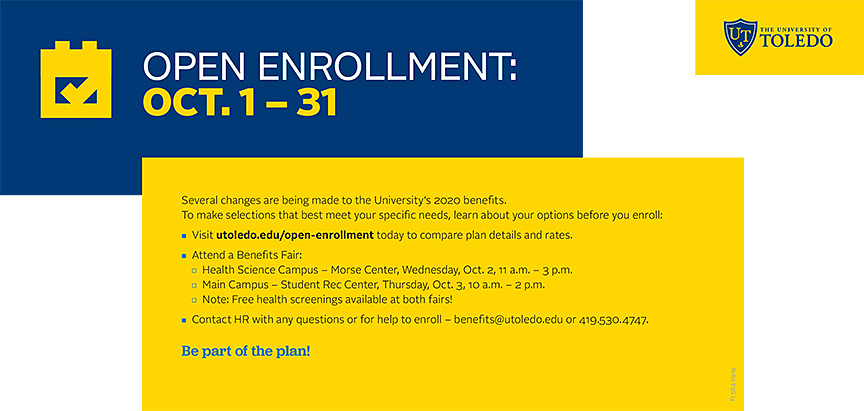 Open enrollment for all benefits-eligible employees will be held Tuesday, Oct. 1, through Thursday, Oct. 31. Because the University continually strives to offer a variety of benefits to meet the needs of a widely diverse workforce, several plan changes are being made for 2020.
Premiums will not increase for most employees. There will be a nominal increase for AFSCME bargaining unit employees to more closely align their rates with those of other employees. Additionally, there will be a small increase (3.4%) in premiums for employees choosing vision coverage.
Among other changes for 2020: Preventive services will now be covered at 100%, such as screening mammograms and certain vaccinations; the Gold plan will no longer be available; and the Blue consumer-driven health plan is moving to Paramount.
If you are a current Gold plan participant, you must select a new plan during open enrollment so there is no disruption in your coverage if you want to continue receiving coverage through the University in 2020.
Additionally, members of the Blue plan, which is moving from Medical Mutual of Ohio to Paramount, should check whether their current physician or healthcare provider is a member of Paramount's network; visit the Paramount website or call Paramount at 1.800.462.3589.
Further, employees who currently participate in the Flexible Spending Account or the Health Savings Account must enroll to continue taking advantage of those benefits in 2020.
"To help employees understand their options, Human Resources is offering even more opportunities this year to learn about the various healthcare plans," said Wendy Davis, associate vice president and chief human resources officer.
In addition to the annual Benefits Fairs, UToledo benefits specialists will be hosting new walk-in sessions and holding open office hours during which employees can get all of their questions answered, she stated.
To compare all plan details and rates before open enrollment begins, visit the open enrollment website, where you also will find frequently asked questions, definitions of healthcare plan terms, and other useful information.
Open benefits sessions to speak one to one with a benefits specialist include:
• Main Campus — Monday, Sept. 23, 9 to 11:30 a.m., and Thursday, Sept. 26, 2 to 4:30 p.m. in Carlson Library Room 1009.
• Health Science Campus — Monday, Sept. 23, 2 to 4:30 p.m., and Thursday, Sept. 26, 9 to 11:30 a.m. in Mulford Library Room 420.
The Open Enrollment Benefits Fairs will feature representatives of various healthcare plans, UToledo fitness centers' and Rocket Wellness staff, UToledo outpatient pharmacists, and other benefits-related professionals.
As an added benefit, free health screenings will be provided at the Benefits Fairs:
• Health Science Campus — Wednesday, Oct. 2, 11 a.m. to 3 p.m. in the Morse Center; and
• Main Campus — Thursday, Oct. 3, 10 a.m. to 2 p.m. in the Student Recreation Center.
As a reminder, you can significantly reduce your medical expenses throughout the year by choosing UTMC, UT Physicians and UToledo Outpatient Pharmacies for your household's primary and specialty care, diagnostic and imaging services, prescriptions, and many other healthcare services.
If you need help enrolling online or have questions about your benefits, stop by Human Resources on Main Campus at the Center for Administrative Support (near the Dorr Street entrance) any Tuesday or Thursday during October from 8:30 a.m. to 5 p.m., or contact benefits@utoledo.edu or 419.530.4747. Appointments also can be made outside of these hours; for instance, by third-shift employees.
"Along with knowing your options and selecting a plan that best fits your needs, we want employees to 'Be part of the plan,'" Davis said. "Partner with your primary care provider and participate in the many free Rocket Wellness initiatives we provide throughout the year."
The University has worked hard to ensure most employees will not have any increases in their 2020 premiums, as well to offer additional resources this year for employees who need assistance during open enrollment, she said.