Trek north with UT Explorers for shopping expedition Sept. 24
September 21, 2016 |
UToday
By Carly Wiegand
---
Join UT Explorers on a trip to Great Lakes Crossing Outlet Mall Saturday, Sept. 24, from 9 a.m. to 6 p.m.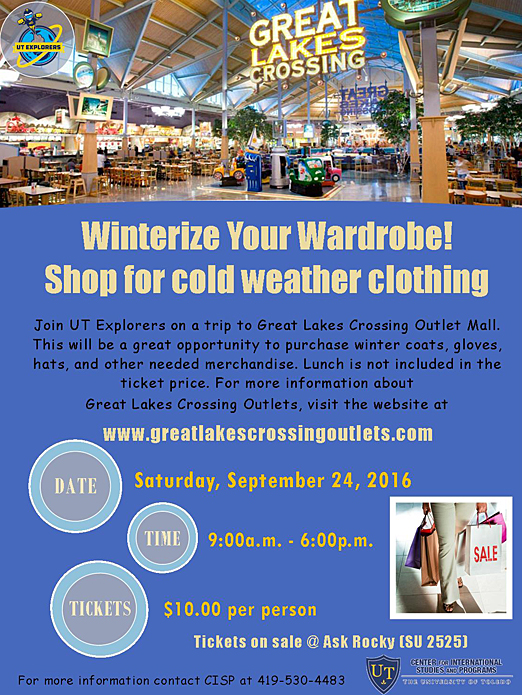 Tickets are $10 per person and are available at Ask Rocky in Student Union Room 2525.
"For this shopping trip, it's more about service. We help international students when they do not have a way of transportation," Tyler Mattson, a graduate assistant for the Center for International Studies Programs, said.
He added it will be a great opportunity for students to purchase winter coats, gloves, hats and other needed merchandise.
The UT Explorers works to enhance the linguistic and cultural competencies of campus learners and scholars while promoting a culture of lifelong learning by providing opportunities for collaboration and engagement with The University of Toledo campuses and communities.
"Not every student gets an opportunity to travel to other countries, and by interacting with our international students, it will broaden their horizons and give individuals the chance to learn more about different cultures and how to respect and appreciate diversity. UT Explorers has fun together while learning from each other," Mattson said.
Click here to learn more about Great Lakes Crossing Outlet Mall.
For more information regarding the shopping trip and future UT Explorers events, contact the Center for International Studies Programs, at 419.530.4483.