Nominate Jefferson Award 'Champion'
September 22, 2009 |
UToday
By Staff
---
With a new academic year comes a fresh chance to recognize those who serve the community.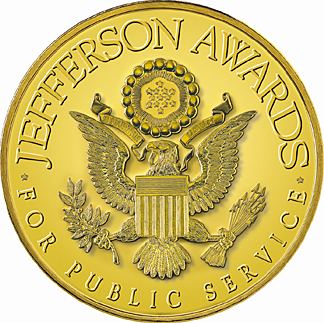 UT's Jefferson Awards "Champion" program will mark its first year in January and has honored several students, staff and faculty members who have made a positive difference within the community.
Emily Stinehart, UT's first winner, works with older adults, children and families in need.
Barbara Kopp Miller has assisted so many people within several disciplines, while offering expertise, advice and sometimes a shoulder to cry on to colleagues.
The University's most recent winner, Luc Blazejewski, rode a bicycle for 63 days as part of an effort to advocate for people with disabilities.
Everyone knows people within the UT community who go the extra mile to help others, whether they act individually or as part of a group. Give these deserving "Champion" volunteers a pat on the back by nominating them for a UT Jefferson Award.
Each month's winner is recognized during town hall meetings, has an article written in UT publications about his or her service, and is eligible for a national Jefferson Award.
Nominating is easy. Just go to the Jefferson Awards Web page at www.utoledo.edu/jeffersonaward/form.html and complete the brief form.
Nominations must be received by 10 a.m. Thursday, Sept. 24, to be considered for this month's award.
If you have any questions, contact Kim Harvey at 419.530.7802.