Flu shots available soon for UT employees and students
September 28, 2016 |
UToday
By Rebecca Schwan
---
In an effort to keep its employees and patients healthy this flu season, The University of Toledo will provide several opportunities to receive flu shots on campus throughout October and November.
The vaccinations will be offered free of charge to all physicians, faculty, staff, residents, students, health-care workers and volunteers during a six-week period starting Monday, Oct. 3, and ending Tuesday, Nov. 15.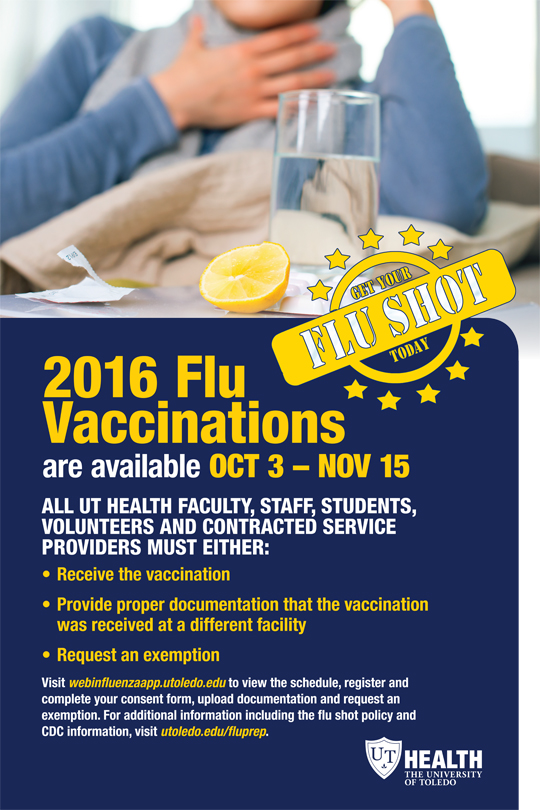 This is the second year for the universal flu shot policy. Flu shots are required for individuals who work in the hospital and ambulatory clinics, and for those whose duties require them to enter patient care areas. Proof of vaccination is required by Thursday, Dec. 1.
While not required for faculty, staff and students on Main Campus, vaccinations are highly encouraged, and clinics will be available for those wishing to get a flu shot.
Influenza is a highly contagious respiratory infection that can lead to serious complications for young children, the elderly, and those with certain medical conditions. Kip Miller, director of primary care clinics, said healthy individuals can transmit influenza even if they are not exhibiting symptoms.
"It is important that we control the spread of influenza as much as possible," he said. "We should always be mindful of the health of the patients we come in contact with and help to reduce the spread of the flu, particularly among those whose health is already compromised due to illness or surgery."
A full immunization schedule is available online at https://webinfluenzaapp.utoledo.edu. Individuals need to complete the vaccine administration questionnaire found on this website prior to receiving a vaccination. Those wishing to receive their flu shot outside of the flu clinics must upload proof of immunization to this website.
Individuals seeking to file an exemption due to religious or medical reasons need to have a request on file by Monday, Oct. 31. Requests will be reviewed on a case-by-case basis. Those granted an exemption will be required to wear a mask during flu season, which typically runs from Dec. 1 through March 31.
"We had a good response to the requirement when implemented last year," Miller said. "We are confident that our health-care community will continue to support this effort to keep us all healthier this flu season."