UToledo Celebrating Hispanic Heritage Month With Events Scheduled Through Oct. 15
---
In recognition of Hispanic Heritage Month, which runs through mid-October, the Office of Multicultural Student Success and the Latino Student Union are celebrating Hispanic culture and heritage with several events including the 32nd Annual Diamante Awards on Tuesday, Oct. 5.
Scheduled at 6 p.m. in the Grogan Room in Savage Arena, the Diamante Awards recognize individuals and organizations for their outstanding achievements and service to Latinos.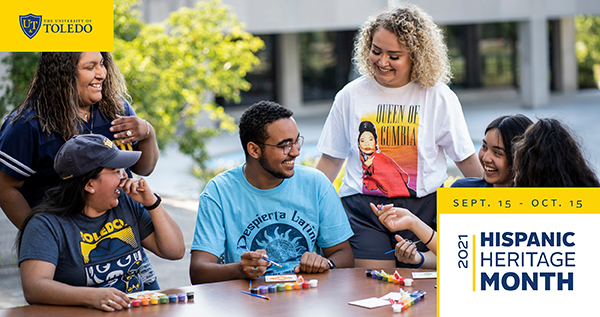 The event also raises scholarship funds for Latino youth seeking degrees at area colleges and universities.
Visit the Diamante Awards registration page to purchase tickets to the event.
Other campus events and activities for Hispanic Heritage Month include:
•  Tuesday, Oct. 5 — GAYme Night Kickoff at 3:30 p.m. in Thompson Student Union Ingman Room, featuring trivia to learn about LGBTQA+ history in America and in Latinx and Filipino culture.
•  Friday, Oct. 8 — Latinx Student, Faculty and Staff Mixer at noon in Thompson Student Union Room 2500.
•  Friday, Oct. 8 — "Let's Talk/Platica" Mental Health and Latino Community During COVID-19, a virtual discussion scheduled at 10 a.m.
•  Wednesday, Oct. 13 — Loteria Night, featuring the bingo-like game loteria (Spanish for "lottery") that uses images and a deck of cards instead of numbered balls at 7 p.m. in Carlson Library Room 1005.
"We are happy to celebrate the rich culture of our Latinx community together on campus this year," said Aleiah Jones, interim director of the Office of Multicultural Student Success. "We have seen exciting changes including the creation of the Latin American and Latinx studies minor and the newly formed Global Latinx Student Union. The 32nd annual Diamante Awards will take place here at Savage Arena where we recognize the contributions of students and community members making a difference locally. Current student, Jannet Frías has been selected for the Latina Youth Leadership award. At our mixer, we welcome our new program coordinator for Latinx initiatives, Alexis Samano, and network with other students, faculty and staff."
Also in celebration of Hispanic Heritage Month, Latin American Studies has a free online library of documentaries and films available through kanopy, and The Office of Multicultural Student Success has links to virtual national exhibitions, events and tours. And Carlson Library encourages students to check out books by Latinx authors and explore a different perspective.
For more information on Hispanic Heritage Month's campus activities, visit the celebration's Invonet site.
And for more resources on Hispanic Heritage Month, visit the Office of Multicultural Student Success site devoted to History and Heritage Months.