Center for Successful Aging offers adult fitness walking program
---
The University of Toledo invites adults to participate in free fitness walking classes to improve cardiovascular health, increase fitness and endurance levels, and combat the effects of aging.
RocketWalk FitTracks will be held in Metroparks of the Toledo Area weekdays now through November. The morning fitness walking classes meet at 10 a.m. on Mondays and Wednesdays at Wildwood Preserve Metropark in Toledo and depart from the Metz Visitor Center. Fitness walks are held Tuesdays at 6 p.m. and Fridays at 10 a.m. at Pearson Metropark in Oregon and meets in Parking Lot 9.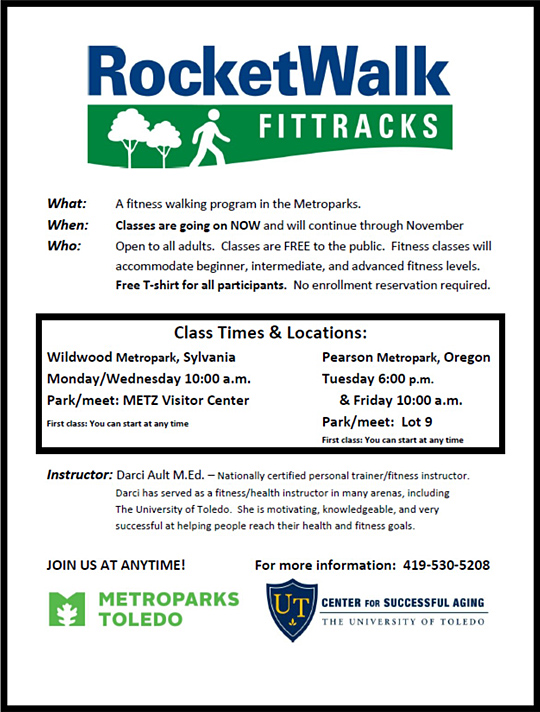 "FitTracks is a great partnership with the Metroparks of Toledo to improve the health and well-being of adults in northwest Ohio," said Darci Ault, education and outreach coordinator for UT's Center for Successful Aging. "We want people to take charge of their health before they experience a health crisis or diagnosis of disease. This is about setting healthy habits now that allow us to maintain our health as we age."
Classes are geared to accommodate beginner, intermediate and advanced fitness levels and are available on a drop-in basis. Participants will receive a free T-shirt.
"Fall is a great time to get out to walk and explore the trails at our metroparks," Ault said. "We have over 40 people enrolled in the RocketWalk FitTracks program. People enjoy the camaraderie of exercising in a group and the positivity it brings. We welcome people to start in the program anytime throughout this fall season."
For more information about RocketWalk FitTracks or the Center for Successful Aging, call 419.530.5208.