Not On My Watch: Partnering program for campus safety
October 2, 2013 |
UToday
By Cynthia Nowak
---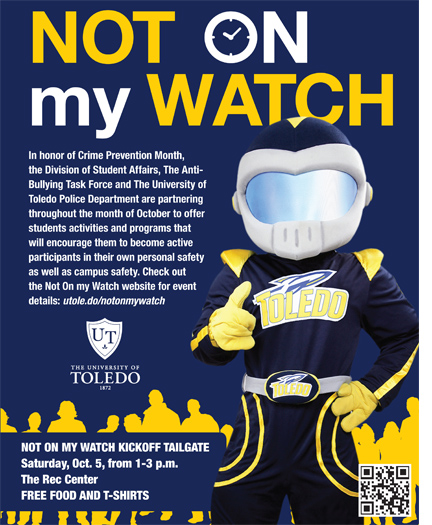 Safety first! The University of Toledo is launching a collaborative, hands-on program designed to increase campus safety by opening students' eyes to the many University resources available to keep them safe.
The Not On My Watch initiative is a student-centered partnership between the Division of Student Affairs, the Anti-Bullying Task Force and The University of Toledo Police Department. It's slated to kick off Saturday, Oct. 5, during Homecoming, starting with an alcohol-free tailgate at the Student Recreation Center from 1 to 3 p.m.
Not On My Watch will offer students four weeks of programs and activities relating to safety, showing them how they can become active participants in their own safety.
"Nationally, October is Crime Prevention Month, but it's our intention that what people learn from Not On My Watch will be used throughout the entire year," said Virginia Speight, interim director of residence life.
"By combining the resources of offices and departments that work closely with students every day, we've been able to develop safety programs and activities that will really engage our students and help them adopt habits that will improve their personal safety — and by extension, campus safety."
UT Police Chief Jeff Newton added, "We hope the Not On My Watch effort will encourage students to take advantage of the numerous safety initiatives and programming offered at the University. Lineups of activities like this keep educating and empowering our students, helping ensure the safest campus environment possible."
The Not On My Watch programs hosted by various University departments can be found at utole.do/notonmywatch.