Open enrollment takes place this month; apply by Oct. 31
October 2, 2017 |
UToday
By Anna Brogan-Knight
---
Open enrollment time is here. The most significant news is that all coverage options from 2017 are still available for 2018, as well as another option for medical coverage, and additional dental and optical plans.
"The additions and changes to the 2018 benefit options reflect the work that we have been doing to address the rising cost of health care. The new options help us offer the best coverage options while minimizing financial impact to both the consumer and the University," said Wendy Davis, associate vice president and chief human resources officer.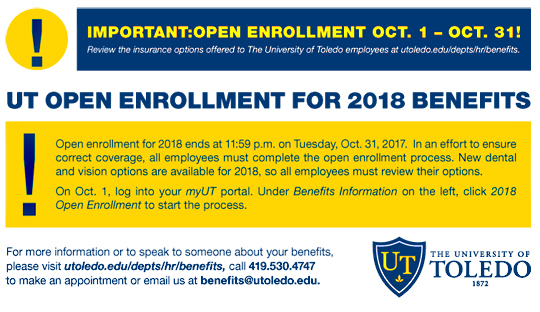 While most changes optimize access to quality care at reasonable prices, some updates reflect coverage eligibility changes due to state law or bargaining unit contracts.
GENERAL CHANGES TO COVERAGE ELIGIBILITY AND PAYMENTS
• Currently, insurance premiums are paid via payroll deduction in 24 of the 26 pay periods per year. In 2018, premium payments will be spread over all 26 pay periods. Nine-month faculty will pay over their 19 pay periods.
• Spousal coverage will continue to be provided consistent with recent changes to federal law broadening the definition of marriage. Domestic partners are covered only by existing agreements that specify coverage.
• Per state law, if your dependents ages 26-28 are currently covered by the benefit surcharge, they will retain coverage until the end of the month they turn 28.
o Dependents who turned 26 in 2017 will be covered until Dec. 31, 2017.

ABOUT THE PLANS
What's the same? All plans available in 2017 are still offered for 2018. Some options have been added for a more customized fit.
WHAT'S NEW?
• The options for health coverage include:
o The Gold Plan: new Medical Mutual of Ohio plan that mirrors the current FrontPath plan, with an added, top tier for UTMC and University of Toledo physicians
o The Silver Plan: carried by Paramount
o The Blue Plan: consumer-driven health plan carried by Medical Mutual of Ohio
o The Bronze Plan: carried by FrontPath
• The Gold Plan is a new option. Administered by Medical Mutual of Ohio, the Gold Plan offers the same plan and, in some cases, better coverage than the Bronze Plan, which is administered by FrontPath.
o Many physicians covered by the FrontPath plan participate in Medical Mutual. If you have the FrontPath plan, look into the Gold Plan for 2018. You will likely find that your physicians participate, and you may save some money.
• If you are covered by the Silver Plan carried by Paramount, know that if you utilize Mercy facilities you are no longer covered by an agreement that allows for in-network pricing. You will be charged the standard out-of-network fee.
• The Blue Plan (consumer-directed health plan carried by Medical Mutual of Ohio) now offers a health savings account of $500 for individuals and $1,000 for families. Employees will be able to earn $300 (for individuals) or $600 (for families) for completing wellness activities.
• In addition to the Delta Dental plan currently in place (now Gold Dental Plan), the Blue Dental Plan, also administered by Delta Dental, will be offered. This plan is ideal for people who have basic dental needs.
• Another vision plan has been added. The new Gold Vision Plan covers eye exams and has an annual frames and lenses benefit. The Blue Vision Plan (the current plan) offers eye exams and hardware coverage every 24 months.
Be sure to log in to myUT and elect your 2018 benefits before Tuesday, Oct. 31.
If you have any questions about your or your dependents' eligibility, which plan is right for you, or how the outlined changes will affect you, please call 419.530.4747 or email benefits@utoledo.edu.