UT Alerts Now Delivered to Campus Computers, Phones
October 3, 2019 |
UToday
By Meghan Cunningham
---
In the event of a serious emergency on campus, alerts can now be delivered directly to your computer monitor and office phone displays.
In addition to the UT Alert text, email and social media messages, new upgrades allow The University of Toledo to also activate pop-up messages on computers and new office phones connected to the UToledo network. University devices connected wirelessly also will receive the notifications.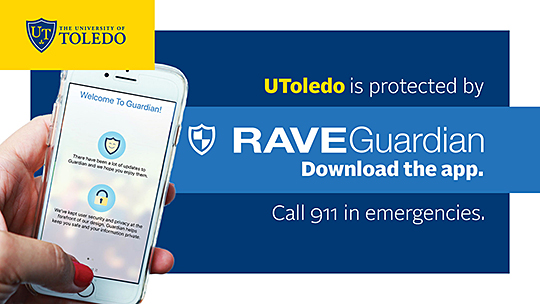 "In an emergency situation, we want to communicate with you what we know quickly to keep you safe. This new technology integration provides us that opportunity," UToledo Police Chief and Director of Public Safety Jeff Newton said. "A UT Alert text message has become the way people expect to hear from us in an emergency, and we like the repetition this upgrade provides to also reach you on your computer and your office phone to be sure you get the message."
Along with the upgrades to the platforms that receive the UT Alert message, UToledo has gone to an opt-out design for the UT Alert system.
Previously, users had to opt in and provide their cell phone contact information to receive the texts. Now cell phone information from Banner can be connected to the UT Alert system. All students currently enrolled have been signed up for UT Alert.
"It is important that all students and staff make sure that their local contact information in our Banner systems is up-to-date so we are sending any alerts to your current cell phone," Newton said. "You don't want to miss emergency messages."
Students are asked to update their contact information in Banner by selecting the Update Addresses & Phones link in the myUT portal. Employees, staff and others are in the process of being automated and should continue to opt in to receive UT Alerts.
UToledo also is protected by Rave Guardian. Campus police encourage you to download the free mobile app to put safety services at your fingertips. The app has a safety timer and panic button to immediately contact police in an emergency and uses your GPS location to get help to you faster.
Acting as an active bystander, app users also can report crimes and other suspicious activity directly to UToledo Police through the app. It is customized to allow users to send tips anonymously and includes a directory of support service contacts.
The app, which is available to download for Android or iPhone, also allows trusted friends or "guardians" to receive the same information as the police.
New safety initiatives this year include additional cameras in the parking garages and two new electric vehicles as part of the Night Watch safe ride service. To request Night Watch, call 419.530.3024 and a team will be dispatched to your location to assist in getting you to your desired location.
As a reminder, campus police encourage you to dial 911 in the event of a serious crime in progress or a medical or fire emergency on campus.
Continue to call University Police directly at 419.530.2600 for non-emergency police services.
UT Medical Center employees should continue to call Health Science Campus Security at 419.383.2600 for assistance with hospital codes.
Read more about the UT Alert system on the Office of Public Safety website.