Installation at UToledo Draws Attention to Domestic Violence Awareness Month
---
The starkly beautiful tables draped with black cloths and purple runners with violet centerpieces and white place settings tell somber stories:
• Janae Wilson was stabbed by her partner with a kitchen knife during an argument in their Toledo apartment in 2009. The 24-year-old died four days later.
• Maria Vera took her two children to visit their father who was just released from prison. At her mother-in-law's house with her children in the next room, Vera was stabbed repeatedly with a screwdriver by her estranged husband. After being on life support for two weeks, the Norwalk, Ohio, resident died at age 22 in 2011.
• Amber Nichole Jones and her 3-year-old son, Jorgie, were shot and killed by her ex-boyfriend Oct. 16, 2012, in Bowling Green, Ohio. The 26-year-old was buried with her son in her arms.
The Empty Place at the Table installation will be on display in seven dining facilities at The University of Toledo during October for Domestic Violence Awareness Month.
"This installation is grounded in awareness and remembering individuals lost to domestic violence in northwest Ohio," Vicky Kulicke, director of Title IX and compliance, said. "It raises awareness quietly through powerful stories of real girls and women from our community lost to domestic violence. The empty place at the table demonstrates there will always be an emptiness in the families and community of the victims."
Kulicke said the stories are on loan from the Silent Witness Project at the Bethany House, a long-term shelter in northwest Ohio for victims and their children who are escaping domestic violence. The project also is made possible through the generosity of UToledo Dining.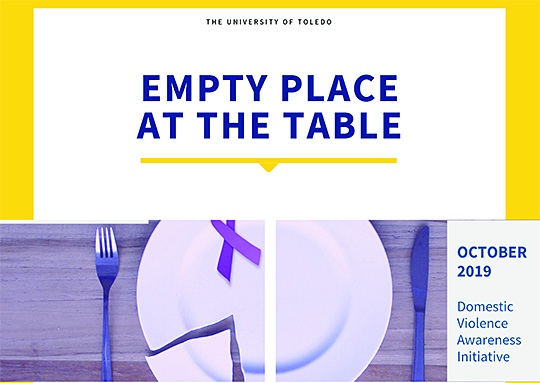 Maya Mineoi, graduate assistant in the Title IX Office, was moved by the installation.
"We share meals with people we love. I'm reminded of the reality that many people are sitting down to a meal today without their child, parent or friend," Mineoi said. "I hope that we can honor these families by practicing healthy accountability and respect within our relationships."
In 1993, the installation was created following several domestic violence murders in Lackawanna County, Pennsylvania. It serves as a reminder of the devastating results of domestic violence and helps ensure victims are remembered.
UToledo community members can see the tables and read the stories in dining locations in the Thompson Student Union, Ottawa House East, North Engineering Building and Carlson Library on Main Campus, and at the Four Seasons Bistro at The University of Toledo Medical Center on Health Science Campus.
For more information on the installation, contact the Title IX Office at 419.530.4191 or go to the Sexual Assault Education and Prevention Program website.