Career Fair Tailgate scheduled for Oct 12; open to all majors
---
The Center for Experiential Learning and Career Services will host its fall 2017 Career Fair Thursday, Oct. 12, from 2 to 5 p.m. in parking area 6 on the east side of the Health Education Center on Main Campus.
"The Career Fair is open to all majors," said Shelly Drouillard, director of the Center for Experiential Learning and Career Services. "This year we are putting a tailgate spin on our traditional Career Fair. It's going to be fun with traditional tailgate activities, music and snacks, but it's serious business, too. The tailgate venue allows for a more relaxed, casual atmosphere, which we hope will encourage even the non-job-seeking younger students to participate in the event. It is never too soon to start building relationships with employers and expanding your professional network."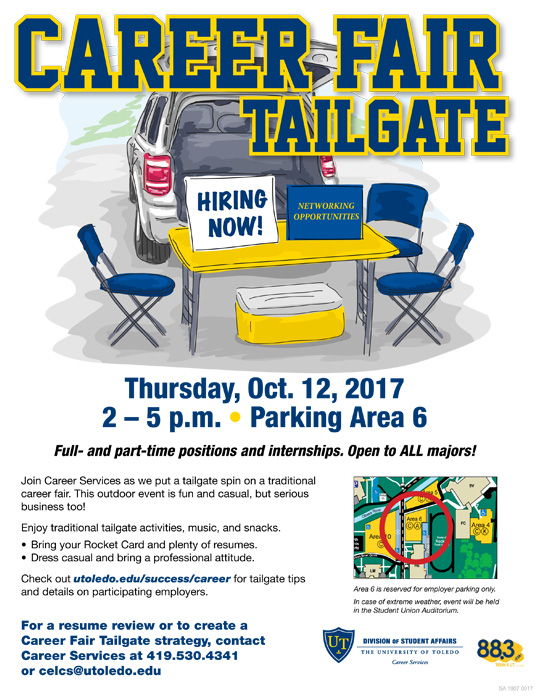 Career Services asks faculty, advisers and success coaches to encourage students to attend the event, and they, too, are welcome to stop by to take in the tailgate experience.
Students will be able to explore career and internship opportunities while networking with corporate recruiters. Representatives from more than 60 for-profit, government and nonprofit organizations will be available to meet with students regarding full-time and part-time employment, along with internship opportunities. Students of all majors and alumni are welcome to attend.
Registered organizations represent a wide range of fields; employers include Promedica; Cleveland Clinic; U.S. Customs and Border Protection; Federal Bureau of Investigation; North American Science Associates Inc.; Sauder Woodworking Co.; Thomson Reuters; and Charles River Laboratories.
The city of Toledo will have two tables at the event, one for overall city positions and internships (including the Toledo Talent Keeps Toledo Great initiative) and an individual recruitment table for police.
Participants can see a full list of employers online at utoledo.edu/success/career.
Many students might not be aware of the tuition reimbursement and/or scholarship programs offered by some area employers. The Ohio National Guard, UPS and Fed Ex are three of these employers that will participate in the fair.
Wright Patterson Air Force Base is looking to hire more than 2,000 people over the next few years and will be recruiting for business and STEM (science, technology, engineering and mathematics) majors at the fair.
"Students need to bring their Rocket Card and plenty of resumés to share with potential employers," Drouillard said. "Students may prepare for the Career Fair Tailgate by stopping in Career Services for a resumé review or to create a Career Fair Tailgate strategy. We are happy to meet with students; they just need to contact Career Services at 419.530.4341 or celcs@utoledo.edu to arrange an appointment."
In case of extreme weather, the event will move indoors to the Thompson Student Union Auditorium.
Residence Life will provide tailgate games, and DJ Tyler and WXUT FM 88.3 will provide a festive vibe.
The Center for Experiential Learning and Career Services works to connect students to meaningful learning experiences and assist them with determining a major and career exploration. Additional services include resumé reviews, mock interviews and job search strategies.