UT harmful algal bloom expert to discuss health of Lake Erie Oct. 18
---
The University of Toledo Lake Erie Center is hosting a free, public event this week about water quality monitoring, the search for solutions to harmful algal blooms, and how the overall health of Lake Erie has been changing.
Dr. Thomas Bridgeman, UT professor of ecology and director of the UT Lake Erie Center, will give a talk titled "Lake Erie: Still Fishable, Swimmable and Drinkable (Mostly)" Thursday, Oct. 18, at 7 p.m. at the Maumee Bay State Park Lodge, 1750 State Park Road in Oregon.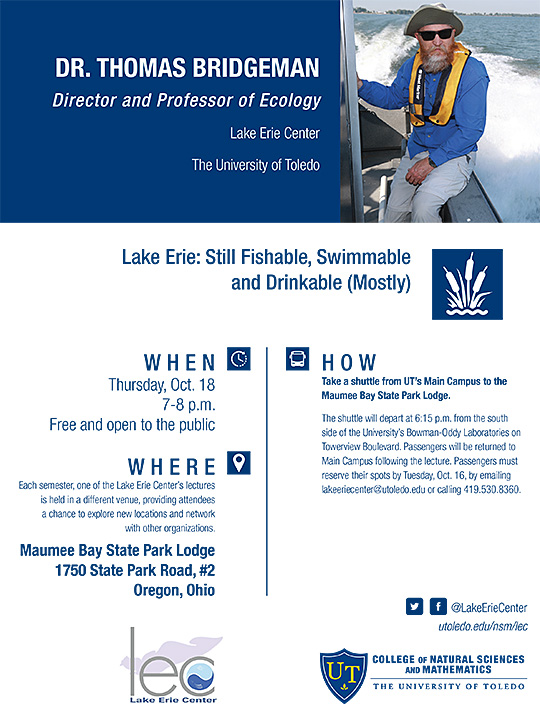 "Blanket statements about Lake Erie's problems don't do it justice," Bridgeman said. "We need to be smart about when, where and how we use the lake, but most of the time the lake is in great shape and people can still interact with it in fun and healthy ways."
Bridgeman has monitored, tracked and studied algae in the Great Lakes for nearly two decades. He helps sound the early warning for water treatment plant operators throughout algal bloom season, which recently ended for the year.
He also connects with legislative policymakers to raise awareness about his research exploring ways to protect the lake and ensure communities continue to have access to safe drinking water.
"I'll be talking about how much more we know now than we used to and how we are getting better at tracking lake water conditions and predicting potential problems so that people can plan ahead," Bridgeman said.
The Lake Erie Center is UT's freshwater research and science education campus focused on finding solutions to water quality issues that face the Great Lakes, including harmful algal blooms, invasive species and pollutants.
Water quality is a major research focus at UT. With more than $14 million in active grants underway, researchers are looking for pathways to restore our greatest natural resource for future generations.
Bridgeman's talk is part of the Lake Erie Center's Public Lecture Series.
A shuttle will be available to transport passengers from UT's Main Campus to the Maumee Bay State Park Lodge and back. The shuttle will depart at 6:15 p.m. from the south side of Bowman-Oddy Laboratories, 3100 West Towerview Blvd. Passengers must reserve a spot by Tuesday, Oct. 16. Email lakeeriecenter@utoledo.edu or call 419.530.8360 to make a reservation for the shuttle.