Fall Career Fair scheduled for Oct. 19 open to all majors
---
The Center for Experiential Learning and Career Services will host its Fall 2016 Career Fair Wednesday, Oct. 19, from 9 a.m. to 1 p.m. in the Student Union Auditorium.
"This career fair is open to all majors," said Shelly Drouillard, director of the Center for Experiential Learning and Career Services. "Students are asked to wear professional dress and to bring their Rocket Card and plenty of resumés to share with potential employers."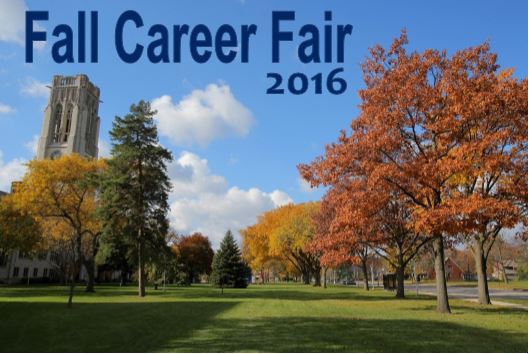 Representatives from 100 for-profit, government and nonprofit organizations will be available to meet with students regarding full-time and part-time employment along with internship opportunities. Students of all majors are encouraged to attend. Alumni also are welcome.
Registered organizations represent a wide range of fields, and employers include Promedica, Quicken Loans, U.S. Fish and Wildlife Service, NAMSA, ConAgra Foods, Norfolk Southern, Ohio State Highway Patrol, and the Toledo Zoo and Aquarium.
The city of Toledo will have three tables at the event, one for overall city positions and internships (including the new Toledo Talent Keeps Toledo Great initiative) and individual recruitment tables for police and firefighters.
Students interested in working for a sports franchise will want to check out the Toledo Mud Hens and Cleveland Indians booths; and while the Cincinnati Reds will not be at the fair, they will be on campus Monday, Oct. 24, to promote internships with their organization.
Participants can see a full list of employers online at utoledo.edu/success/celcs.
Students can prepare for the career fair by attending recommended prep sessions from noon to 1 p.m. in Student Union Room 2591 Thursday, Oct. 13, or Monday, Oct. 17. Students are encouraged to register online for the prep session.
"Employers repeatedly report back to us that they can tell the students who have prepared in advance for career fairs and interviews, and that extra level of preparedness can leave a lasting positive impression and can give students a competitive edge as a job candidate," Drouillard said. "Students who are unable to attend a prep session can make an appointment prior to the career fair to have their resumé reviewed and create a career fair plan.
"Career fairs serve as a valuable resource to our students. Students are able to explore career options and seek future employment," Drouillard added. "Students will be able to discover what is out there in the work world, explore different options and career paths, meet and talk with representatives from a broad spectrum of companies, obtain valuable interview and job search experience from seasoned professionals, learn about internships, develop a network of contacts, and discuss available positions and submit their resumés in person to company recruiters."
The Center for Experiential Learning and Career Services works to connect students to meaningful learning experiences and assist them with determining a major and career exploration. Students are encouraged to take advantage of the many services offered: resumé reviews, mock interviews and job search strategies.
To schedule an appointment, call 419.530.4341.