Upcoming Family Weekend Brings Rockets Together in Pride, Fun
---
Family Weekend, the three-day annual campus visit that brings together UToledo students and their parents and families, returns Friday, Oct. 22, through Sunday, Oct. 24, with a wide range of events and activities.
Approximately 525 registered to attend this year's fall tradition.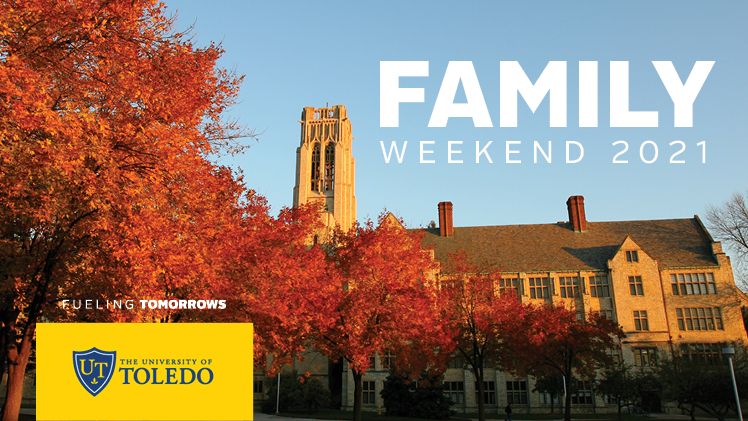 "Family Weekend is a valued annual tradition. It not only brings Rockets on campus together with Rockets off campus, it also bonds us in our shared love and enthusiasm for The University of Toledo," said Ben Weiner, associate director for student involvement and engagement. "And, as always, Family Weekend will have festivities, food and football along with plenty of other events and activities for everyone to enjoy."
Family Weekend begins with the registration, a dessert reception and movie night on Friday.
Saturday's activities include a fall festival and the Toledo Rockets v. Western Michigan Broncos football game. The festival will take place 1:30 to 3:30 p.m. on Carter Field (the Thompson Student Union will serve as the event's back-up location in event of rain) with live music, free food, face painting, spooky campus tours, pumpkin painting, tailgating games, a photo-booth, visits from the UToledo marching band and cheerleading squad, and an opportunity to meet some of our favorite Toledo mascots. The football game kicks off at 3:30 p.m. in the Glass Bowl.
The weekend concludes with "Costco & Croissants" from 10 a.m. to noon Sunday with gift cards provided to the first 50 families at the wholesale retail store.
Other campus activities available for families throughout the weekend include the Spirit of Sierah 5k Run from 5:30 to 8 p.m. Friday at Stadium Drive; Once Greek, Always Greek: UToledo's All Greek Cookout from noon to 3 p.m. Sunday at the William and Carol Koester Alumni Pavilion; and Walk for Water 2021, 1:30 to 4 p.m. at Centennial Mall, a fundraising 5K Walk and Run to increase Toledo's awareness and funds for the Clean Water for the World nonprofit.
The Rocket community also will receive shopping discounts for Family Weekend.
The JCPenney Suit-Up runs from 10 a.m. to noon Friday-Sunday at JCPenney at Franklin Park Mall, 5001 Monroe St., with UToledo students, alumni, faculty and staff receiving 30% off purchases including suits, dresses, sports coats, dress pants, shoes and accessories.
And Rocky's Locker and the Barnes & Noble at Gateway will offer UToledo family members and parents as well as students, alumni, faculty and staff a 25% discount to purchase clothing with a discount coupon available at registration and valid only during Family Weekend.
Rockets who plan to use westbound I-475 to get to campus for Family Weekend or to attend Saturday's football game will need to find an alternate route. Westbound I-475 will be closed between I-75 (exit 204) and US-23 (exit 14) from 8 p.m. Friday, Oct. 22, through 6 a.m. Monday, Oct. 25. Eastbound I-475 will remain open.
Visit Toledo Athletics for a list of alternate routes.
Visit the Student Affairs' Family Weekend website for more information on Family Weekend including events and registration.