Toledo Student-Athletes Earn 92% Graduation Success Rate
---
The University of Toledo received a Graduation Success Rate (GSR) of 92% for its athletic department in the latest figures released by the NCAA. That figure ranks second among the 12 schools in the Mid-American Conference, just 1% behind Miami University's score of 93 percent.
Seven Rocket teams scored a perfect 100 GSR: men's golf, men's tennis, men's cross country, women's basketball, women's soccer, women's tennis and women's volleyball. Twelve teams earned a 90 GSR or higher, and every Toledo team ranked in the top half of the MAC.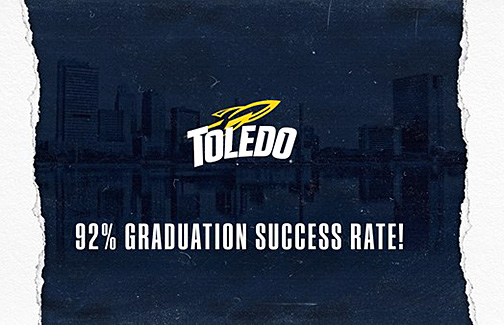 "These latest GSR figures confirm something that we already knew: Our student-athletes are graduating in very high numbers," said UToledo Vice President and Athletic Director Mike O'Brien. "A record 77 Rocket student-athletes received their diplomas at commencement last spring, which was a very gratifying accomplishment. There is no prouder moment for student-athletes, as well as their families and all who have supported them on their journey, than when they walk across that stage and receive their diploma."
GSR is a gauge of every team's graduation rate within a six-year period of a student-athlete's enrollment. The latest GSR figures examined the student-athlete cohort that originally enrolled in 2012 and would need to have graduated by August 2018 to count as a graduate.
The GSR formula, intended to be a more complete and accurate look at student-athlete success, removes from the rate student-athletes who leave school while academically eligible and includes student-athletes who transfer to a school after initially enrolling elsewhere. The GSR also allows for a deeper understanding of graduation success in individual sports than the federal metric, which has broader groupings.
University of Toledo Graduation Success Rate
Sport — GSR
Baseball — 94
Men's Basketball — 90
Men's Cross Country — 100
Football — 83
Men's Golf — 100
Men's Tennis — 100
Women's Basketball — 100
Women's Cross Country/Track & Field — 97
Women's Golf — 90
Women's Soccer — 100
Softball — 88
Women's Swimming & Diving — 92
Women's Tennis — 100
Women's Volleyball — 100
Overall Department GSR – 92
Six-year data for academic cohort that enrolled in 2012 through August 2018