Welloween Health Fair slated for Oct. 26
October 24, 2012 |
UToday
By Samantha Watson
---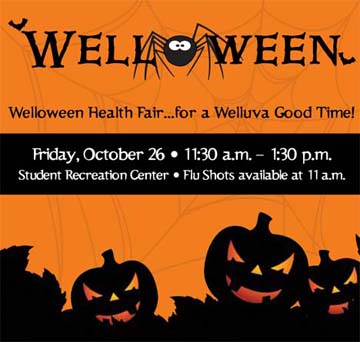 Don't fall victim to sickness as the temperature begins to drop — visit The University of Toledo Student Recreation Center Friday, Oct. 26, for a flu shot, health screenings and more during the Welloween Health Fair.
Students, faculty and staff are invited to stop by from 11:30 a.m. to 1:30 p.m. for the free event. Those who attend are encouraged to wear a costume and have their photos taken as part of a costume contest, which will be judged at 1 p.m.
There will be educational booths with free goodies, free health screenings, a DJ, door prizes and group exercise demonstrations. And there will be free flu shots for students, faculty and staff with a valid Rocket ID.
For more information, contact the Student Recreation Center at 419.530.3700 or visit utoledo.edu/studentaffairs/rec.
Click to access the login or register cheese