UT Rides rolling: New service offers easy way for students to take taxicabs
October 26, 2010 |
UToday
By Jon Strunk
---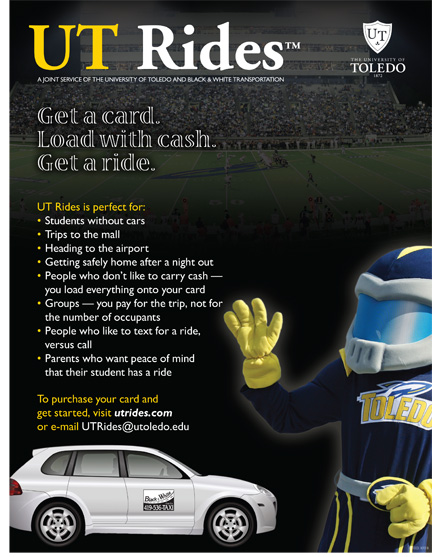 The University of Toledo and Black & White Transportation have teamed up to offer a new transit service to students, faculty and staff. The program, UT Rides, allows participants to receive a reloadable debit card for use with all of Black & White's services.
Students, parents and other University community members can sign up for the program or give the card as a gift by visiting utrides.com.
Lawrence J. Burns, vice president for external affairs and interim vice president for equity and diversity, worked with Scott Potter, the owner of Black & White Transportation, to set up the program, and said he hopes it will offer a safe and convenient alternative for student travel.
"We really want students to be safe," Burns said. "And taxis are a safe and relatively inexpensive way for students to be able to experience all of the great things downtown Toledo and the surrounding areas have to offer."
If students embrace taxicabs, Burns said it could help decongest the on-campus parking lots as well.
Potter said student safety was a catalyst for establishing the program, but also highlighted other benefits.
"If there's a group of four friends thinking about going out for the night, we want them to say 'Well, instead of taking a car, let's just all split an $8 cab fare, and we can put it on my card,'" Potter said.
In addition to safety, Potter said taxi rides are a convenient way for students without vehicles to get around the city.
"Having a UT Rides card gives you 24/7 accessibility to the entire community," Potter said. "You don't have to have cash, but you can still get to the mall or the airport or the zoo with a simple phone call or text message."
Passengers will be able to call 419.530.TAXI (8294) for a ride or use their smart phones to hail a ride using the B4UDrive application. Those with non-Internet-connected mobile devices can text message the word RIDE to 419.322.6772 for pickup.
"We tried really hard to remove all impediments that have kept people from taking cabs for safety and convenience reasons," Potter said. "Ideally, we're hoping that students start to see taxis as a viable way to get around Toledo."
In addition to taxi fare, the cards can be used for Black & White's other transportation services, including black car (sedan) service, airport service, courier service, and a service that will have drivers take passengers home in their own vehicles.
Once program participants use their cards, they will be able to sign into their account online and see a transaction list, including pickup and dropoff locations, total cost of each ride and a current balance.
The cards are available at utrides.com.