Commuter Fall Fest set for Oct. 27
October 26, 2016 |
UToday
By Staff
---
Get into the spirit of the season: Stop by Commuter Fall Fest Thursday, Oct. 27, from 11 a.m. to 1 p.m. in the Student Union Auditorium.
Enter a pumpkin-painting contest and have free pizza and other fall treats, including popcorn and candy.
Palm readers and psychics will be on hand, as well as caricature artists.
Detroit musician Charity Ward will perform her mixture of R&B, soul and funk starting at noon.
The free event is sponsored by Commuter Student Services and the Office of Student Involvement Leadership in the Division of Student Affairs.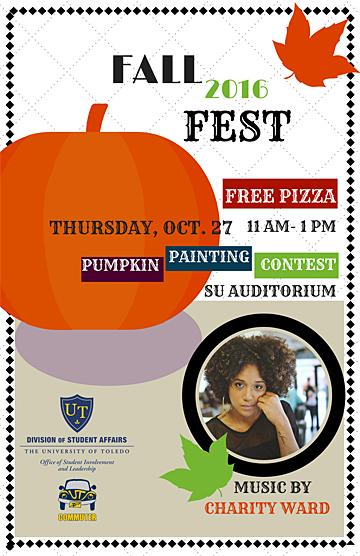 Click to access the login or register cheese