UToledo Launches Financial Intervention Program to Assist Students
October 28, 2019 |
UToday
By Meghan Cunningham
---
A new Financial Emergency Intervention Program has been established to assist students experiencing financial hardship by exploring all available options so they can meet their financial obligations and keep focused on their studies.
"We've always been available to work with students through unexpected financial emergencies that threaten to derail them from achieving their educational goals. What this new program does is formalize that process," said Gina Roberts, assistant vice president of enrollment management. "There is now one resource where students can reach out directly for help, but just as important faculty and staff across campus have a clear pathway to refer a student for assistance when they learn of their challenges."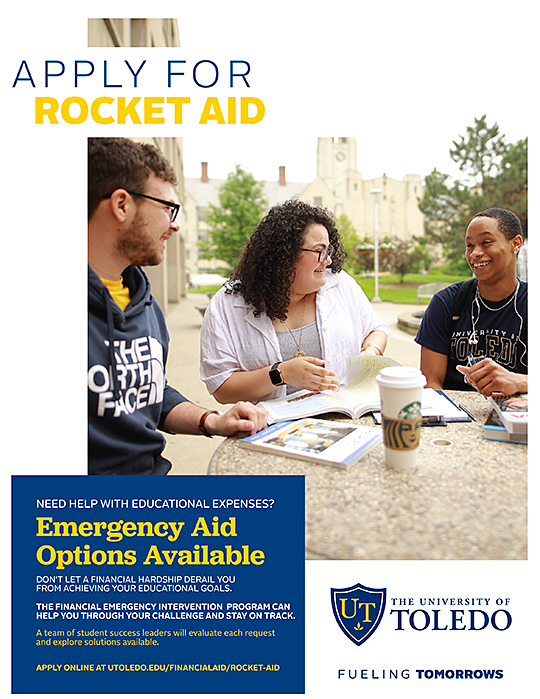 To take advantage of the Financial Emergency Intervention Program, students or those referring a student for resources need to complete the application for Rocket Aid available on the Student Financial Aid website. The application asks for information such as what term the emergency aid is needed, what types of expenses the student is having difficulty paying, and a range for the amount of aid needed.
A team of student support leaders will evaluate each request to find the best options available to help the student. The team includes Angela Roach, director of scholarships and financial aid systems; Dr. Julie Fischer-Kinney, assistant provost for student success and retention; Shelia Stewart, bursar; and Bradley Menard, director for housing.
"It was important for us to get together on one team the individuals who oversee student accounts, scholarships, housing and support services so we could be innovative and collaborative in the options we can provide students when they encounter difficulty," Roberts said.
In addition to emergency funds that may be available, there could be special circumstances in which the student should update their financial aid status, select a more affordable housing option, participate in a work-study program, or take advantage of another solution. Assistance options will be tailored to each individual student's unique circumstance, Roberts said.
The Financial Emergency Intervention Program also will provide opportunities for the University to review financial aid and billing processes to ensure they are student-centered and to provide additional financial education programming to students.