'Regional Water and More' topic of Great Lakes Water Conference Nov. 2
---
Regionalization of water and sewer systems will be the prime focus of the 18th annual Great Lakes Water Conference this week at The University of Toledo College of Law.
The conference titled "Regional Water and More" will take place Friday, Nov. 2, from 8:30 a.m. to 3 p.m. in the Law Center McQuade Auditorium.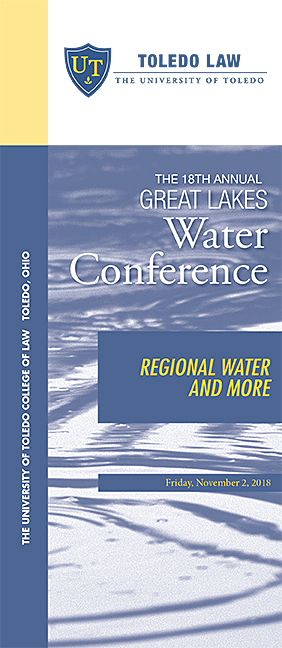 "Regionalization of water services is an important issue across the nation," said Ken Kilbert, UT professor of law and director of the Legal Institute of the Great Lakes. "And locally this conference could not be more timely, in light of the ballot question facing city of Toledo voters on Nov. 6 regarding a regional water commission."
The keynote speaker will be Darren Nichols, executive director of the Great Lakes Commission, at 8:45 a.m.
The first panel at 9:15 a.m. will concentrate on Ohio, including a possible regional approach to drinking water among the city of Toledo and nearby communities.
The second panel at 11 a.m. will discuss the trend toward regionalization of water and sewer systems beyond the Buckeye State, including the new regional authority in the Detroit area.
A third panel at 1:30 p.m. will address the rights of recreational paddlers versus private landowners, developments in the legal fight against algae in Lake Erie, and regulation of discharges of pollutants to groundwater under the federal Clean Water Act.
The one-day conference sponsored by the UT College of Law and its Legal Institute of the Great Lakes is free to the public. Registration is $75 for attorneys seeking 4.5 hours of Continuing Legal Education credit.
For more information about the conference, read the Great Lakes Water Conference 2018 brochure.
For Continuing Legal Education credit or a box lunch, check out the Great Lakes Water Conference registration website.