New version of eBlade could be big win for UT students
October 31, 2011 |
UToday
By Tobin J. Klinger
---
Beginning today, students have a new reason to open up their daily eBlade.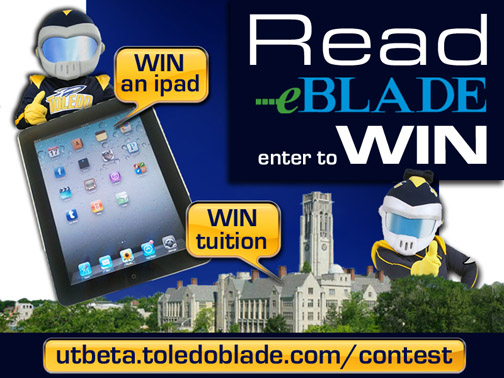 Monday, Oct. 31, marks the launch of a new version of the news vehicle, representing a significant enhancement to the user experience. And this enhanced experience comes with the ability to win tuition and fees for the semester, as well as iPads.
"This is an exciting evolution to our ongoing relationship with The Blade," said Lawrence J. Burns, UT vice president for external affairs. "The new tool is a significant improvement in the daily eBlade and the more students use the tool, the greater their chances to win paid tuition and fees for a semester or an iPad."
Students receive an email in their Rocket accounts each morning and access the eBlade by following the login information. The system tracks their use of the eBlade; the more they use it, the more they increase their chances to win.
"The Blade has been extremely generous in offering this impressive prize package to our student body," Burns said. "We encourage all our students to take advantage of this service. Daily newspapers are an integral part of our culture, and keeping up with the news and information shaping our community is critical to becoming an engaged citizen."
For more information on the eBlade and the contest, visit myUT.utoledo.edu.