Deadline approaching for receiving influenza vaccine
November 1, 2016 |
UTMC
By Rebecca Schwan
---
UT Health faculty, staff, residents, students, health-care workers and volunteers are reminded to schedule their free influenza vaccine. The final day shots will be administered is Tuesday, Nov. 15.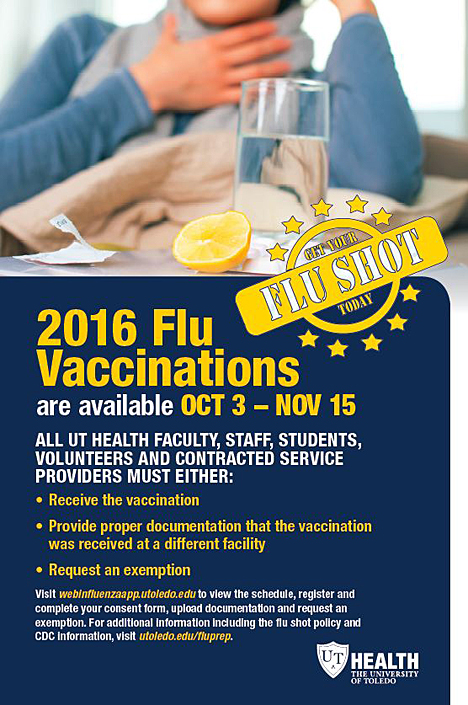 The universal flu shot policy was adopted last year as an effort to prevent the spread of influenza and to keep employees and patients healthy. Vaccines are required for individuals who work in the hospital, ambulatory clinics, and those whose duties require them to enter patient care areas. Proof of vaccination is required by Dec. 1.
A list of remaining vaccination times and locations is available online at https://webinfluenzaapp.utoledo.edu. Individuals are reminded to complete the vaccine administration questionnaire found on this website prior to receiving a vaccination.
Kip Miller, director of primary care clinics, said there has been a good response to the program this year.
"We typically have a bell curve response, with a few early adopters and the bulk of people receiving their vaccine during the mid-point of the drive," he said. "As we are drawing near the deadline, we want to remind those remaining individuals who have not yet gotten immunized that they have the opportunity to do so right here at work and school."
Those who choose to receive a flu shot at their doctor's office or other clinic need to upload proof of immunization to the UT influenza vaccine website.