Student organizations to light bonfire, kindle friendships
November 1, 2016 |
UToday
By Carly Wiegand
---
UT students, mark your calendars for an entertaining night: Attend the first bonfire co-hosted by the Muslim Student Association, the Catholic Student Association, Hillel and International Student Association Thursday, Nov. 3, from 6:30 to 9:30 p.m. in the Flatlands.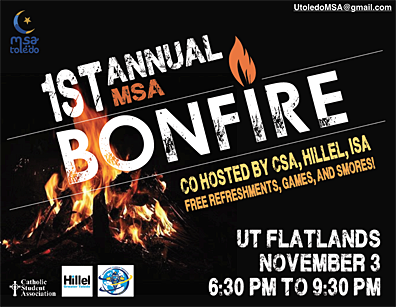 There will be plenty of games, popcorn, S'mores and refreshments.
This is a great opportunity to meet many students from other organizations, according to Reem Hajeir, president of the Muslim Student Association.
"We hope everyone leaves the event with new relationships and friendships with different members from each organization," Hajeir said. "We wanted to bring these religious-focused organizations together to interact with the rest of the student body."
For more information about the event, email the Muslim Student Association at utoledomsa@gmail.com.