Casting a spell (with UT cast) in 'Bell, Book and Candle'
---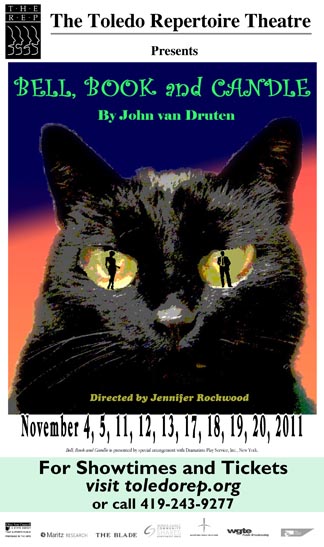 What better way to extend everything Halloween than with — a love story?
Absolutely, as long as the romance is "Bell, Book and Candle," the comedy replete with witches, sorcery and one very enigmatic cat, opening at the Toledo Repertoire Theatre, 16 10th St., Friday, Nov. 4.
It's also loaded with UT talent: The cast members are all UT theatre graduates, many regularly playing other University roles.
The play's director Jennifer Rockwood — who also directs UT's First-Year Experience Program — noted that the work by John Van Druten, familiar to many from the 1958 film version starring Kim Novak and James Stewart, has an appeal that extends far beyond the holiday of frights.
"It's a mysterious, sexy love story," she said. "Love in the early stage feels like someone's put you under a spell, right?"
That's certainly the case for Shepherd "Shep" Henderson, played in the Rep's production by Matthew Gretzinger, part-time instructor in the Department of Theatre and Film. Shep, a perfectly average book publisher, becomes enchanted with his new landlady, the exotic Gillian Holroyd, assayed by Kate Abu-Absi, director of the UT Arts Living Learning Community.
The enchantment, it should be noted, is the raise-an-incantation variety, courtesy of Gillian's skills as a witch.
Magic, Rockwood said, drives the play less than do the comic possibilities of two people who couldn't be more different. "The dissimilarity of the characters, the tension between them in a strange situation, are what make the play come alive," she added.
Three more eccentric characters — Gillian's impish warlock brother Nicky (John Duvall), her dotty-witch aunt Queenie (Jennifer Nagy Lake) and self-styled witchcraft expert Sidney Redlitch (John Paul Welch) — boost the energy, with enough quick entrances and exits to resemble a Georges Feydeau farce.
"But it's not slapstick," Rockwood emphasized. "It's a story about the magic of love."
Rockwood, who also serves as assistant dean in the College of Innovative Learning as well as a member of the theatre faculty, credits her long experience as a director in part to the "usual suspects" who often act in plays she directs: "I love working with these actors; their fearlessness inspires me. In many cases, I've watched them grow up since the '90s."
This will be her first cast, though, that includes a feline. Gillian's cat, Pyewacket, is essential to the action; his unusual name, Rockwood said, has historic roots: "Pyewacket was one of the familiar spirits of a witch detected by an English witchfinder general in 1644."
Pye and company will cast a spell on Toledo Repertoire Theatre audiences beginning Friday and Saturday, Nov. 4 and 5. Performances continue Friday through Sunday, Nov. 11-13, and Thursday through Sunday, Nov. 17-20. Curtain time is 8 p.m. except for Sunday shows, which will go on at 2:30 p.m.
Tickets are $18, $16 for seniors, $10 for students 13 and older, and $5 for students 12 and younger.
For more information, visit toledorep.org or call 419.243.9277.