UToledo Marks 2020 Election with Discussions, Expert Analysis
---
The University of Toledo community is experiencing the historic national election in 2020 by advocating for high voter turnout, holding discussions to understand the impact of the results and sharing the expertise of UToledo political science and law faculty members.
UToledo partnered with the Campus Vote Project, a nonprofit, nonpartisan organization that works with colleges and universities across the country to normalize and institutionalize student voting and to increase voter registration and turnout for the 2020 election. Transportation also was provided to assist students with early voting.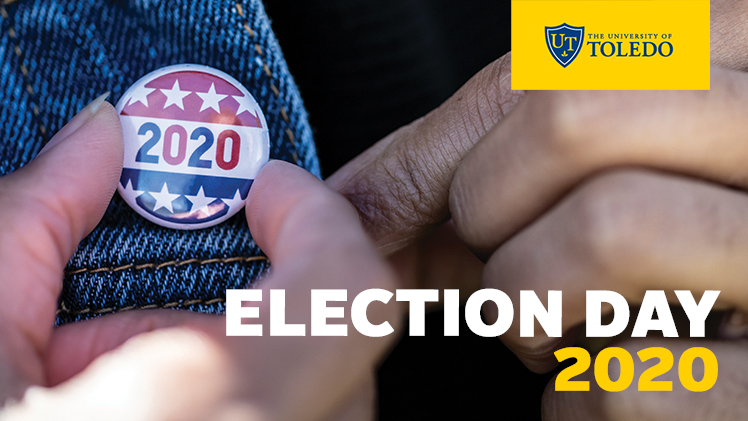 UToledo Interim President Gregory Postel encouraged the UToledo community to participate in the national election and vote. "This is important and your opinion matters," he said in a video message shared with the campus community through UToledo News and social media.
University faculty experts have been invaluable sources for journalists throughout the election year, explaining news events ranging from the pandemic's early impact on the Ohio primary election to the recent debates between the presidential and vice presidential candidates.
On election night, Dr. Sam Nelson, associate professor and chair of the UToledo Department of Political Science and Public Administration, will be live on WTOL 11 as the station's political science expert providing analysis of the early results. And Rebecca Zietlow, the Charles W. Fornoff Professor of Law and Values in the UToledo College of Law, will be live on 13 ABC as its constitutional law expert.
For more information on how UToledo expertise has been shared throughout the election year, explore the University's Experiencing History and Inspiring Dialogue campaigns.
In collaboration with the Campus Vote Project, the Division of Student Affairs is hosting several post-election discussion sessions offered virtually and in person on Wednesday and Thursday, Nov. 4 and 5, to discuss the results of the general election. The conversations will be facilitated by UToledo faculty and staff. Students interested in participating in the discussions should sign up in advance via the online registration form.
The presidential election also was the focus of a virtual discussion this year as part of the Dialogues on Diversity series and its Oct. 1 event titled "The Vote!" which was moderated by a UToledo political science professor and featured student and community members.
As a reminder, UToledo is the site of a polling place for voters in Lucas County. On Tuesday, Nov. 3, voters in precincts 13H, 14D, 14E and 14G will cast their ballots from 6:30 a.m. to 7:30 p.m. in the front lobby area of Rocket Hall. The Board of Elections will enforce all COVID-19 protocols for staff and voters.
If you are registered to vote in Lucas County, confirm your polling location on the Lucas County Board of Elections website.