Sign up to give back during holidays
November 5, 2018 |
UToday
By Bailey Sparks
---
The University of Toledo has partnered with the Salvation Army to host the Adopt-a-Family Program for several years.
Last year, the University collectively adopted 70 families to support during the holiday season. The goal this year is to adopt 100 families in the Toledo area to support for the holidays.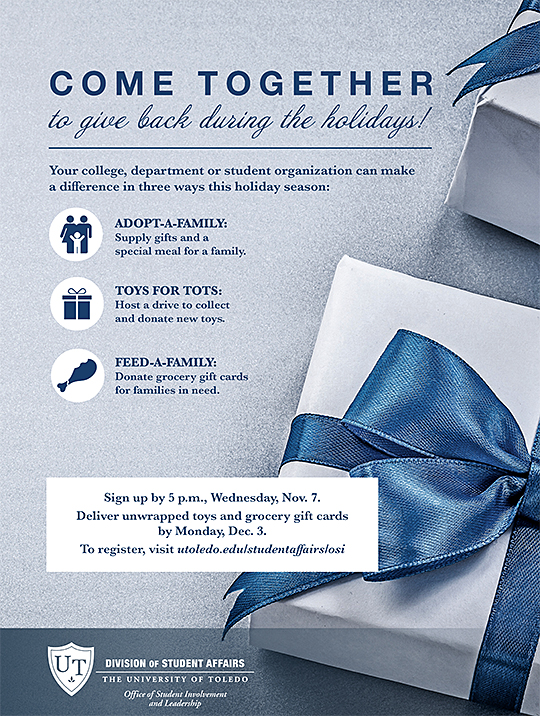 "I find it is important for us as members of the greater Toledo community to give back in any way possible to support the community that hosts us," said Alex Zernechel, program manager for Greek life. "Our hope is that student organizations, athletic teams, offices, departments and colleges will help in this endeavor to continue our support for the community we call home."
Students and employees can help in three different ways: Adopt-a-Family, in which you supply a family with gifts and a special meal; Toys for Tots, in which you host a drive to collect and donate new toys; and Feed-a-Family, in which you donate grocery gift cards for families in need.
"The campus rallies around the Adopt-a-Family Program as a way we can give back and ensure families in our community can enjoy the holidays," Dr. Phillip "Flapp" Cockrell, vice president for student affairs, said. "The University of Toledo is proud to be this city's university and the positive impact we can have on our community. We appreciate this partnership with the Salvation Army that provides such a great opportunity to serve."
The deadline to sign up to help this season is 5 p.m. Wednesday, Nov. 7.
All donations of unwrapped toys and grocery gift cards are to be delivered by Monday, Dec. 3.
For more information, visit the Adopt-a-Family Program web page.