UTC3 aids hundreds of local charities
November 6, 2017 |
UToday
By Christine Wasserman
---
Faculty, staff and retirees are encouraged to participate in this year's annual UT Community Charitable Campaign (UTC3), which launched Nov. 1 and runs through Friday, Dec. 22.
Each year the University participates in UTC3, which formerly was called the United Way campaign, to collect funds for what now includes four federations — United Way of Greater Toledo, EarthShare Ohio, Northwest Ohio Community Shares and Community Health Charities. Together, these federations represent more than 200 nonprofit organizations throughout the community.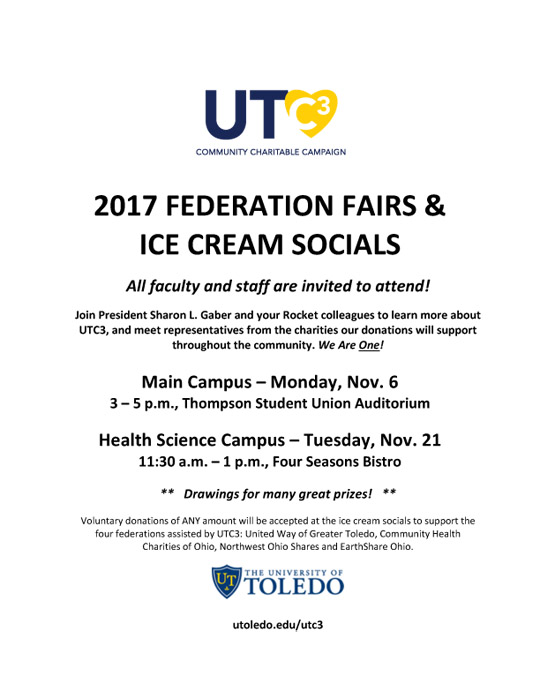 To learn more about this year's campaign and meet representatives from area agencies supported by UTC3 gifts, two federation fairs and ice cream socials will be held:
• Main Campus — Monday, Nov. 6, 3 to 5 p.m., Thompson Student Union Auditorium.
• Health Science Campus — Tuesday, Nov. 21, 11:30 a.m. to 1 p.m., Four Seasons Bistro.
"We hope a lot of faculty, employees and retirees will take some time to attend these fairs and learn more about how their contribution to UTC3 can help to change lives," said Dr. Michele Soliz, assistant vice president for student success and inclusion, who is this year's UTC3 chair.
"This year's theme is 'We are one.' We want to remind everyone that our UT community is part of the larger community," Soliz noted. "By combining forces through our UTC3 pledges, we can demonstrate that no one ever needs to face life's challenges alone."
Donations of any amount are encouraged. Every faculty, staff and retiree who submits an ePledge form will receive a complimentary gift and be eligible for weekly prize drawings; the names of winners will be announced each week. Additionally, those who pledge a UTC3 gift will receive an invitation to a January breakfast buffet with President Sharon L. Gaber that will feature drawings for many additional prizes.
"On the heels of UT's very successful inaugural Day of Giving, which supported University initiatives, we don't want potential donors to feel pressured financially when making a gift to this community campaign," Soliz said. "There are a number of ways to give, including payroll deduction, and so I want to remind contributors they can postpone making payments until 2018.
"We strongly encourage our UT family to give whatever amount their personal or household budget can allow — even if it's just a dollar. While that doesn't sound like a lot, if every single faculty, staff member and retiree gave just one dollar, we collectively could contribute thousands of dollars in support of our local community. Just think of the difference that would make in this region!"
To make your contribution to UTC3, watch for weekly emails that contain a link to the ePledge form. Once you submit your completed ePledge form, you will no longer receive additional UTC3 emails.
For more information about this annual community campaign, including a complete list of charities your gift may support and a video message from the president, visit utoledo.edu/utc3.