Toledo soccer falls to Marquette in OT in first round of NCAA Championships
---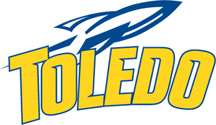 The Toledo women's soccer team's season came to a heartbreaking end with a 1-0 setback to nationally ranked Marquette in overtime in the first round of the NCAA Championships Saturday at Valley Fields in Milwaukee.
With the loss, the Rockets wrap up the season with a 14-7-2 overall mark.
The match marked the final collegiate contest for UT's five-member senior class: Danielle Case, Kristen Lynn, Alyssa Niese, Ana Reynolds and Vicki Traven, who equaled the school record with 56 total victories, a win total tied for 24th most in the country, according to collegesoccer360.com.
The No. 12/19 Golden Eagles' (18-3-0) Taylor Madigan netted the contest's lone goal at 96:44 in the first extra period to send the home team to the second round of the postseason for the second consecutive season.
Madigan's decisive marker was set up by teammates Maegan Kelly and Lisa Philbin. Kelly played the ball deep into UT territory from the right side to Philbin, who flicked it forward to Madigan in front of the goal. The sophomore midfielder found a seam in Toledo's defense and slid a low shot just inside the near post past an outstretched Traven to end the match.
Toledo's best chance to score came with a little under 26 minutes left in regulation when sophomore Nicole Gyurgyik accepted a pass from classmate Rachel MacLeod and blasted a shot that hit the crossbar.
Moments later, Marquette's Kelly nearly broke the scoreless tie when she rifled a shot from the top of the goal box. Fortunately for the Rockets, Traven came up big and punched it out of play.
The Golden Eagles had one other quality scoring chance in regulation at the 79:43 mark when Madigan put a shot on the frame from point-blank range, but UT's Traven made another save to send the match into overtime. Traven tied her season high with seven saves.
For the match, the Golden Eagles held a 14-3 advantage in shots and had eight shots on goal to the Rockets' one.