UToledo Offers Activities During Great American Smokeout
November 18, 2019 |
UToday
By Staff
---
To help raise awareness about the dangers of e-cigarettes and other nicotine use, the University is joining the American Cancer Society's Great American Smokeout, nationally designated for Thursday, Nov. 21.
All UToledo campus community members are invited to participate in two special activities during the week: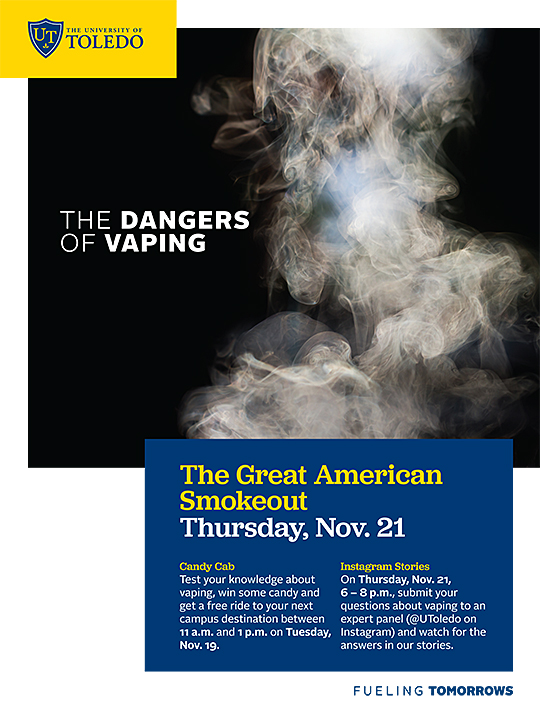 • Tuesday, Nov. 19 — Members of Rocket Wellness, UTMC Pharmacy Services and Recreational Services will provide information on vaping and its associated dangers from 11 a.m. to 1 p.m. in the Four Seasons Bistro on Health Science Campus and on Centennial Mall, where Student Affairs will provide golf cart rides to various stops on Main Campus.
• Thursday, Nov. 21 — A panel of experts will answer questions about vaping via Instagram @UToledo; submit questions and watch for answers from 6 to 8 p.m.
Each year through the Great American Smokeout, the American Cancer Society strives to educate individuals about the harmful effects of nicotine and offer guidance on how to quit tobacco use. This year, participating organizations will focus on e-cigarette risks, which have garnered much media attention recently due to young adults becoming critically ill after vaping.
"We want students, faculty and staff to know UToledo genuinely cares about their well-being," said Vicki Riddick, senior wellness officer. "There are many resources available on campus that can support individuals choosing to quit nicotine. These Great American Smokeout activities are part of our efforts to provide them with helpful resources."
UToledo campuses are tobacco-free to promote wellness; therefore, the use of all nicotine-related products — including e-cigarettes, cigarettes, and smokeless and chewing tobacco — are prohibited on University property.
For more information on the Great American Smokeout or resources on how to begin a nicotine-free life, contact vicki.riddick@utoledo.edu or visit the American Cancer Society's website.