For Second Straight Year, UToledo Student-Athletes Earn 92% Graduation Success Rate
---
The University of Toledo received a Graduation Success Rate (GSR) of 92 percent for its athletic department in the latest figures released by the NCAA. That figure ranks second among the 12 schools in the Mid-American Conference, trailing only Miami University's score of 95 percent.
This is the second straight year that the Rockets achieved a GSR of 92 percent, and also the second consecutive year in which UToledo ranked second among MAC schools.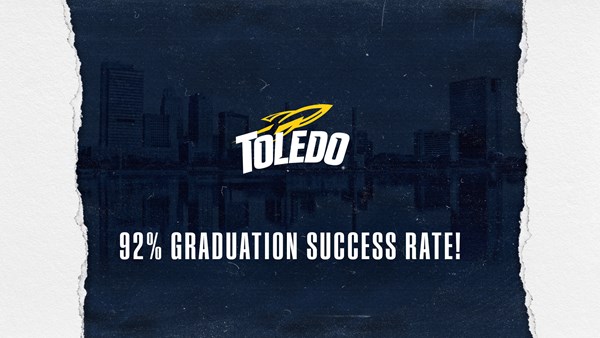 Seven Rocket teams scored a perfect 100 GSR: baseball, men's basketball, women's basketball, men's cross country, women's soccer, women's tennis and women's volleyball.
"We are very proud of our latest GSR figures as they are a very strong indicator that our student-athletes are graduating at a very high rate," said University of Toledo Vice President and Athletic Director Mike O'Brien. "Over the past two years, 135 Rockets have graduated from The University of Toledo. That is a great achievement for our program, as well as for each of our graduating student-athletes and their families."
GSR is a gauge of every team's graduation rate within a six-year period of a student-athlete's enrollment. The latest GSR figures examined the student-athlete cohort that originally enrolled in 2013 and would need to have graduated by August 2019 to count as a graduate.
The GSR formula, intended to be a complete and accurate look at student-athlete success, removes from the rate student-athletes who leave school while academically eligible and includes student-athletes who transfer to a school after initially enrolling elsewhere. The GSR also allows for a deeper understanding of graduation success in individual sports than the federal metric, which has broader groupings.
University of Toledo Graduation Success Rate
Sport — GSR
Baseball – 100
Men's Basketball – 100
Men's Cross Country – 100
Football – 86
Men's Golf – 88
Men's Tennis – 83
Women's Basketball – 100
Women's Cross Country/Track & Field – 92
Women's Golf – 88
Women's Soccer – 100
Softball – 94
Women's Swimming & Diving – 87
Women's Tennis – 100
Women's Volleyball – 100
Overall Department GSR – 92
Six-year data for academic cohort that enrolled in 2013 through August 2019