Donations Sought for Winter Clothing Drive
November 22, 2019 |
UToday
By Chase M. Foland
---
The Office of Student Advocacy and Support is holding a winter clothing drive to help keep students warm this winter.
Donations of coats, gloves, sweatshirts and hats will be accepted through the end of the semester, Friday, Dec. 13. Items can be dropped off in Thompson Student Union Room 2521.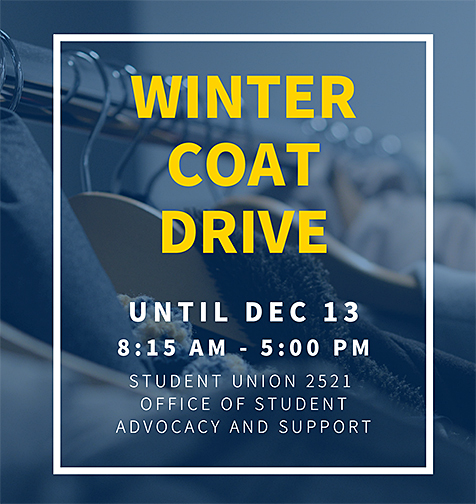 "It is important to help students in need as they brave the elements on their way to classes and the surrounding Toledo community," said Ben Weiner, coordinator of student advocacy.
The mission of the Office of Student Advocacy and Support is to empower student success through collaborating with the campus and surrounding community with students' best interest in mind.
The office is committed to serving as a visible resource for personal and academic achievement by providing support for students.
"I hope students will feel comfortable coming by our office if they're in need of winter outerwear," Weiner said. "Our goal is to help as many students as possible be warm and protected from this upcoming winter."
All donations must be in good condition for use.
For more information, contact Weiner at benjamin.weiner@utoledo.edu or 419.530.5923.