RSVPs requested by Dec. 1 for president's holiday open house
November 28, 2016 |
UToday
By Staff
---
President Sharon L. Gaber is inviting faculty and staff to stop by a holiday open house Thursday, Dec. 8.
Drop by the Driscoll Alumni Center between 3:30 and 5:30 p.m. and take a few minutes to celebrate the season with colleagues. Cupcakes, coffee and cider will be served.
"I hope faculty and staff members can take a few minutes out of their busy schedules to get together during this wonderful time of the year," Gaber said.
RSVPs are requested by Thursday, Dec. 1; reply to the invitation email.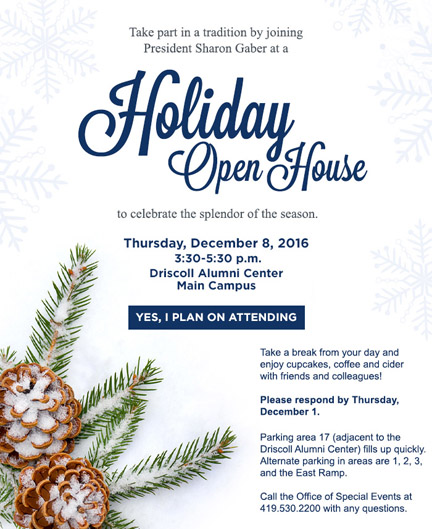 Click to access the login or register cheese