Dec. 2 deadline to apply for MLK Scholarship
November 30, 2015 |
UToday
By Staff
---
The Office of Student Financial Aid is accepting applications for the 2015 Dr. Martin Luther King Jr. Scholarship.
Undergraduate African-Americans who are U.S. citizens and enrolled full time or part time at The University of Toledo are eligible to apply.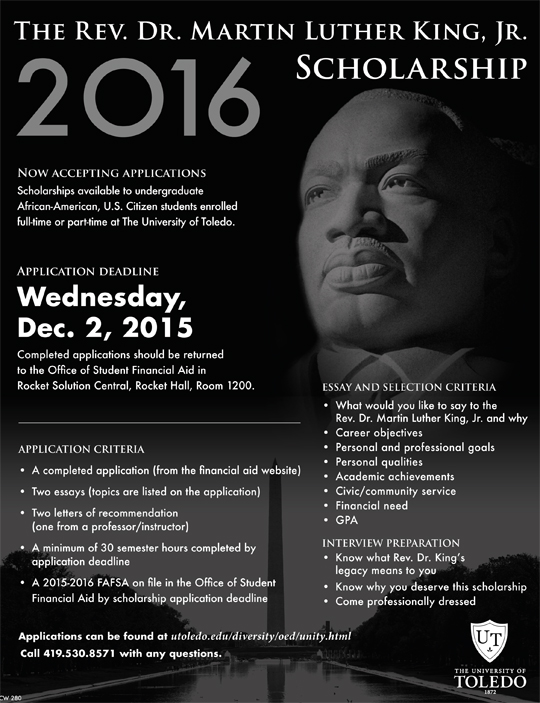 The application deadline is Wednesday, Dec. 2, and materials should be submitted to the Office of Student Financial Aid in Rocket Solution Central, Rocket Hall Room 1200.
Applicants must have a 2015-16 Free Application for Federal Student Aid on file in the Office of Student Financial Aid and completed a minimum of 30 semester hours by the application deadline.
To be considered for this scholarship, a completed application form, along with two letters of recommendation, one from a professor or instructor, and two essays must be submitted.
Selection criteria for the scholarship include grade point average, extracurricular activities, civic or community service, professional goals, financial need as it relates to all resources available to attend UT, and an interview.
Applications can be found here.
For more information, call the Office of Equity, Diversity and Community Engagement at 419.530.8571.