Title IX Office Promoting 'Cup of Prevention'
---
Students gearing up for finals week and sipping on their hot beverages from Starbucks and Java City will be encouraged to learn more about sexual misconduct prevention education resources from the Title IX Office. UToledo continues to promote and encourage a commitment to a safe campus community.
"Cup of Prevention" is an awareness campaign presented by the Title IX Office to promote resources available to faculty, staff and students should they or someone they know be impacted by sexual misconduct. By taking a photo of the snap code thru the Snapchat app, the person is guided to resources available to assist them.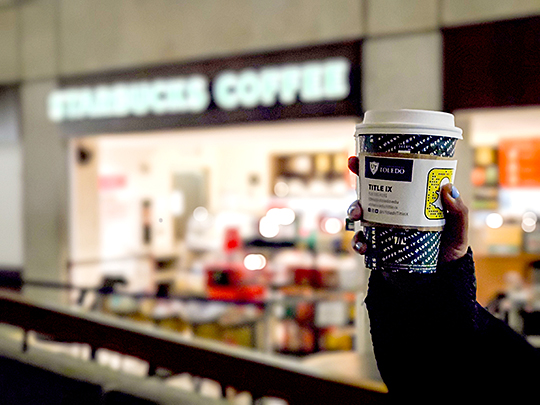 "It is the continued goal of the Title IX Office to raise awareness of resources available to the UToledo community about what options are available. We also want to encourage healthy conversations about consent and create an environment comfortable for reporting," Vicky Kulicke, director of Title IX and compliance, said.
"This powerful awareness campaign has been at UToledo for four years and demonstrates a wonderful partnership with areas outside of the Title IX Office that can help support education and awareness surrounding having a safe campus community," she added.
"Cup of Prevention" is part of an overall awareness campaign to target faculty, staff and students to continue educating the community on what is available to them. This campaign is in addition to banners, posters, lawn signs, TV screens, tabling and brochures found around campus.
The University's Title IX Office ensures compliance with federal law and works to raise awareness of sexual misconduct prevention. The Title IX Office responds to and may investigate reports of sexual misconduct, implements interim measures when necessary, and works to remedy the effects of sexual misconduct.
For more information about the Title IX Office and the sexual misconduct education program, call 419.530.4191, stop by the office in Snyder Memorial Building Room 1120, or visit the Title IX Office website.