Disability Studies Program to screen, discuss 'A Christmas Carol'
---
The UT Disability Studies Program will screen Charles Dickens' seasonal classic "A Christmas Carol" Tuesday, Dec. 6, at 7:30 p.m. in Memorial Field House Room 2100.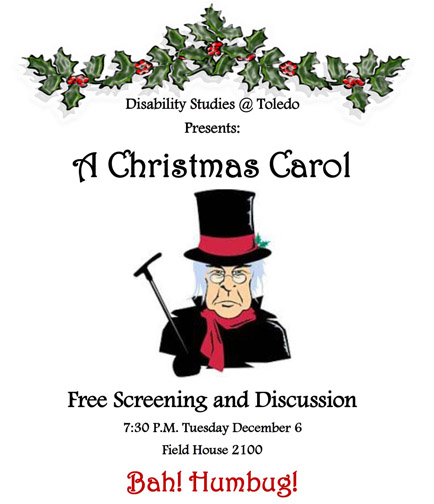 Ebenezer Scrooge, played by George C. Scott, is a bitter, old miser who believes nothing good can come of Christmas if it does not make him any money. Visited by the ghost of his former business partner, Jacob Marley, on Christmas Eve, he is warned that if he does not change his unkind ways, Scrooge is doomed to a torturous afterlife in chains. Scrooge then is visited by three spirits that take him on an adventure to assure his repentance.
After the screening, film-goers are invited to stay for a discussion with faculty and students from the Disability Studies Program on representations of disability in film, literature and other media intended for young people.
For more information on the free, public event, contact the Disability Studies Program at 419.530.7244 or kathryn.shelley@rockets.utoledo.edu.
Click to access the login or register cheese