Culture Ambassadors seek recruits
December 6, 2013 |
UToday
By Leisha Lininger
---
Join the Culture Ambassadors at The University of Toledo.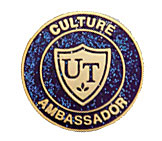 Since 2009, the Culture Ambassadors have raised awareness about local events related to diversity and promoted a welcoming and inclusive environment at the University.
And the group is always looking to add members.
"I have had the privilege to work with numerous outstanding individuals from students, staff and faculty members, as well as members of the community, including Josina Lott, WWII and Vietnam veterans, people with ALS, and people from various religious backgrounds that have helped me learn about and better understand others' beliefs and cultures," said Toni Blochowski, assistant to the chancellor for the academic health center, who is a three-year member and the membership coordinator for the Culture Ambassadors.
With the opportunity to serve on four committees, members can participate via outreach, enrichment, the student climate survey task force and/or faculty/staff climate task force.
"The goal of the entire group is to work through these committees to build a welcoming and inclusive environment on campus," said Emily Hardcastle, community outreach manager in the Office of Equity, Diversity and Community Engagement, who is a two-year member and group administrator for the Culture Ambassadors. "It is also a great opportunity for networking with faculty, staff and students across campus."
Members receive a pin and polo as well as a variety of opportunities to volunteer throughout the year at various events such as the annual lawn games at Josina Lott.
"I was a member of Culture Ambassadors as a student and now as a staff member," Hardcastle said. "It is just a very welcoming group of individuals passionate about diversity and UT. We always have a good time, and the group is a great way to learn, grow and get out in the community."
The Culture Ambassadors are part of the Office of Equity, Diversity and Community Engagement. Membership requirements entail involvement in at least one committee and attendance at group meetings, which convene every other month.
"Since its inception, the goal has always been to be a group of inclusion and to make sure that the campus is welcoming," said Dr. Shanda Gore, associate vice president for equity, diversity and community engagement, and UT chief diversity officer. "I believe that anyone who is joining this group will find that their time spent is well-spent in helping others and doing the mission of the University."
Contact Blochowski at toni.blochowski@utoledo.edu or 419.261.1658 or visit utoledo.edu/diversity/ambassadors to find out more and to apply for membership.
Follow the Culture Ambassadors on Twitter at @utoledoca or utcultureambassadors.tumblr.com.