Faculty, staff 'Simply Give' for many reasons
December 6, 2016 |
UToday
By Christine Wasserman
---
Both faculty and staff alike continue pledging their contributions to The University of Toledo Community Charitable Campaign, UTC3, which runs through Wednesday, Dec. 28. With nearly 220 nonprofit agencies benefiting from their gifts, there are many reasons why they've chosen to "Simply Give," which is this year's campaign theme.
"I simply give because I love being connected to the Toledo community," said Dr. Richard Welsch, associate professor in the Department of Early Childhood, Physical and Special Education.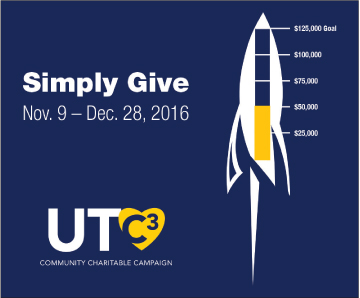 The reason for Kathleen Walsh, director of web development in University Marketing and Communications, is much more personal. "I received support from a handful of agencies while I was going through cancer treatment a few years ago, and my son has received help from three of the agencies that UTC3 supports. That still touches my heart today," the mother of three confided, "and so I want to simply give back."
"I give because of the Learning Club of Toledo. It provides after-school tutoring to inner-city students right here in Toledo," offered Dr. Lori DeShetler, accreditation and assessment director in the Judith Herb College of Education. "It has such a positive impact on hundreds of students each year."
Matthew Perry, associate director for residence life, simply gives "… because Equitas Health [formerly AIDS Resource Center Ohio] provides health-care services, resources and advocacy for all persons."
UTC3 launched Nov. 9 and already has received pledges totaling $50,900 from the campus community. Donors may designate specific charities they'd like their gift to support, and all donations are tax-deductible.
"To keep things fresh this year, we're asking people to 'Simply Give' whatever amount they can afford," said Dr. Kaye M. Patten, senior vice president for student affairs and the 2016 UTC3 chair. "We don't want someone to avoid participating because they can't make a major contribution. Every single dollar counts.
"You may think that $5 or $10 isn't worth pledging," Patten continued, "but when these smaller gifts are combined with everyone else's, the University can collectively make a huge impact on thousands of lives right here in northwest Ohio."
Every person who "Simply Gives" to UTC3 by Dec. 28 will receive a complimentary long-sleeved UT T-shirt, as well as an invitation to a breakfast in early 2017.
To make a donation, watch for Patten's weekly emails on Wednesdays and use the link provided to access your ePledge form. Visit utoledo.edu/utc3 for more details.